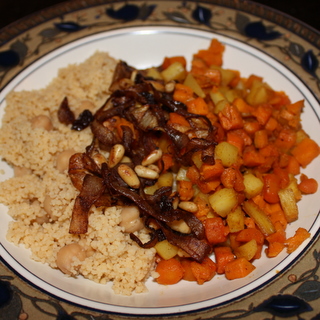 From January 2009 Cooking Light.  Recipe here.
Another Girl-friendly vegetarian meal.  I clipped this one out of Cooking Light magazine about a year ago and the kids plucked it from my recipes files at last week's "family meeting/menu planning session."  I was worried that they were just tired and eager to get the meeting over with and weren't being too careful about their choices.  I was worried that I would spend an hour cooking it and they wouldn't like it.  Hubby doesn't like raisins.  Boy isn't wild about large amounts of onins and Girl isn't a fan of too-exotic spices.  But…my fears were unfounded.  They all liked this and it also proved to be much quicker and easier than the recipe, at first glance, would seem.  After cooking this, I read some of the reviews of the recipe on Cooking Light's website (Duh!  I should be doing that FIRST, right?) and I agree with most of what's written there, namely:
Don't skip the onion topping.  In fact, consider making extra.  It adds a TON of flavor.
Add a bit more ras el hanout spice to the veggies before roasting. (FYI – if you have a hard time finding Ras el Hanout, try CostPlus World Market.  It is possible to make your own, but most recipes call for some pretty exotic ingredients that you're not likely to use for anything else…best, in my opinion, to buy it, if possible.)
I highly recommend this recipe and I suspect that it's one that will hold its own as leftovers (probably will even freeze well, although I'm going to test that theory, as I made a larger-than-called-for batch and we have quite a bit left over.)
Hubby and I will be happily devouring some of the leftovers for lunch tomorrow.