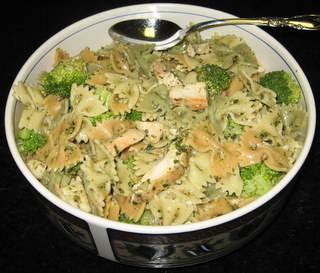 A yummy, warm meal-in-a-bowl and the prep doesn't get any simpler than this!

Chicken Pesto Pasta with Broccoli
(that title makes it sound like the pesto is made of pureed chicken – ewwww…..)
about 1/2 lb of your favorite pasta, cooked according to package directions, drained and rinsed
(farfalle, penne, rotini or even spaghetti are all great)
2 chicken breasts
(sprinkled with Baby Bam seasoning, grilled and sliced into bite-sized pieces)
2 or 3 cups of fresh-steamed broccoli, cut into bite-sized pieces
1/4 cup or so (maybe more – just "eyeball" it) basil pesto
(I like the version that they sell at Costco, but it's easy to make your own)
Fold broccoli, pasta and chicken together in a large bowl (or just prepare it in the pot you boiled the pasta in). Gently fold in the pesto, a tablespoon or two at a time, until all of the pasta is lightly coated in the pesto.
Serve and enjoy. This is great cold for leftovers, too, or for packed lunches to take to school.
Sprinkle with a little freshly grated parmesan cheese, if desired. A sprinkle of toasted pine nuts would be good, too, if your family is game.