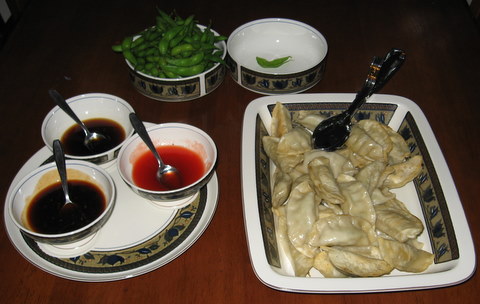 Pot-Sticker Dumplings with dipping sauces and Edamame
Dumplings are one of our favorite "fast and easy" light meals. We slept in this morning and had both breakfast and lunch late. We also had a parade of children and snacks through the house and were munching things like popcorn and lemonade (fresh-squeezed, the kids set up a lemonade booth today to raise money for Save the Tigers) all day, so were looking for something simple and semi-light for dinner. I also haven't been to the grocery store in days and we are out of milk, fresh vegetables and fresh fruit, but we had a bag of frozen dumplings and some edamame in the freezer.
We like to pan-fry our dumplings a bit after boiling them. Sometimes we make our own dumplings, but these were store-bought, frozen ones. After boiling (usually about 8 minutes, but follow the package or recipe directions), fry them in a bit of canola oil (drizzle in a bit of toasted sesame oil, too, for extra flavor) until they are starting to turn golden on the bottoms.
Serve with your choice of dipping sauces. Usually the frozen dumplings come with either a soy sauce based dip or a sweet and sour sauce, or both. We also like to make our own dipping sauce, but it's a bit spicy for the kids. Hubby LOVES it.
Dipping sauce for eggrolls or dumplings:
1 Tbsp. minced green onions
2 Tbsp. low-sodium soy sauce
1 Tbsp. rice vinegar
2 Tbsp. duck sauce
1 tsp. sriracha hot sauce
Stir all ingredients together until well mixed.