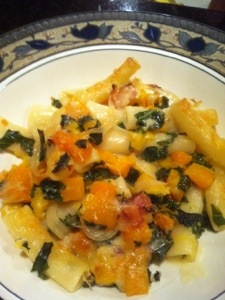 This was really yummy, but we are a household (mostly) of veggie-loving folks. If you already love kale and butternut squash, you'll love this pasta (the nutty Gruyère and luscious crème fraîche are a fantastic and classic combination). If you don't, this recipe isn't going to be the one to convert you (try this or this, instead). This recipe isn't the simplest or the quickest (there is decent amount of peeling and chopping of kale, squash and onions and many of the components must be cooked individually first, before assembling the casserole,) but it was quite good. The red pepper flakes add a nice kick, too.
Flexitarian Note: I simultaneously prepared a veggie version of this for The Girl. I made a 1/4 batch (one pound of pasta, in total, for both versions) for her, cooking the onions in butter instead of the bacon grease. I cooked all of the pasta, kale, squash and sauce (substituting veggie broth, instead of chicken) together, then separated out 4/5ths of the mixture and just added the bacon and bacon-fat onions to that to create the carnivorous batch. I baked it in a smaller dish, but for the same amount of time.
If I haven't scared you off, the recipe can be found here.