Red Lentil- Rice Cakes with Pico de Gallo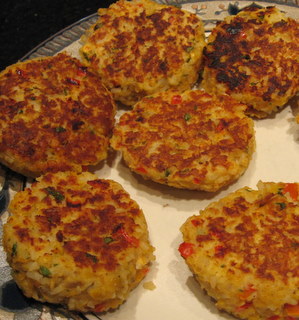 adapted from this recipe in Cooking Light magazine
Red Lentil-Rice Cakes:
5 cups water, divided
1 cup dried small red lentils
1/2 cup uncooked basmati rice
(or 1 and 1/2 cups cooked
2 Tbsp olive oil, divided
1/2 cup finely chopped red bell pepper
1/2 cup finely chopped red onion
1/2 tsp cumin seeds, crushed
2 garlic cloves, minced
3/4 cup (3 ounces) shredded cheddar cheese
1/4 cup dry breadcrumbs
1 Tbsp chopped fresh cilantro
1 tsp salt
1/4 tsp freshly ground black pepper
2 large egg whites, lightly beaten
Bring 4 cups water and lentils to a boil in a medium saucepan. Reduce heat, and simmer for 20 minutes or until tender. Drain and rinse with cold water; drain. Place lentils in a large bowl.
Combine remaining 1 cup water and rice in pan; bring to a boil. Cover, reduce heat, and simmer 18 minutes or until liquid is absorbed. Cool 10 minutes. Add rice to lentils.
Heat 1 teaspoon oil in a large nonstick skillet over medium-high heat. Add bell pepper, onion, cumin seeds and garlic pan; saute 2 minutes or until tender. Cool 10 minutes. Add to rice mixture. Add cheddar cheese and remaining ingredients, stirring until well combined. Let stand for 10 minutes.
Wipe skillet clean with paper towels. Heat 2 teaspoons olive oil in skillet over medium heat. Spoon half of rice mixture by 1/3 cupfuls into pan, spreading to form 6 (3-inch) circles; cook 5 minutes or until lightly browned. Carefully turn cakes over; cook 5 minutes on other side. Remove cakes from pan. Repeat procedure with remaining 1 Tbsp olive oil and remaining rice mixture. Serve with pico de gallo.
Pico de Gallo:
2 cups coarsely chopped plum (Roma) tomato
1/4 cup finely chopped fresh cilantro
1/4 cup finely chopped red onion
1 garlic clove, minced or pressed
1 small squeeze fresh lime juice
3 pickled jalapeno slices, finely chopped
Gently fold all pico de gallo ingredients together. Add a small amount of salt, to taste. This stuff is GREAT as a chunky salsa to top quesadillas or dip chips into. You can also stir it into mashed avocados to make a mild, fresh guacamole. I could eat this stuff with a spoon if you let me.
Note: There is NO SUCH THING as too much cilantro. Cilantro is awesome.
The lentil cakes were really yummy and could easily be adapted to any flavor combination that suits your fancy. The original recipe has a more "Italian" flavor, with basil, mozzarella and fennel seeds instead of cilantro, cheddar and cumin seeds. You could probably easily go Mediterranean or Indian with these, too. These took a little time and prep, but were not difficult at all. The "5 minutes at medium heat" time was PERFECT: you really don't even need to peek or watch them much as they're cooking; just set a timer for 5 minutes and walk away (or work on the rest of your dinner or set the table, or whatever).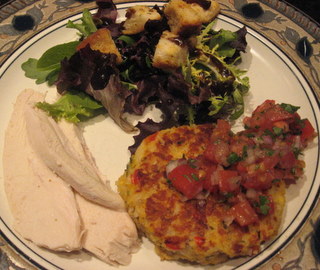 I served these with roasted chicken and a green salad with balsamic vinaigrette and Baby Bam croutons.