DELICIOUS!!! The gnocchi turned out SO well and Boy and Girl DID enjoy helping. They were VERY precise about their rolling of the dough, the cutting, the rolling on the fork tines. I couldn't be happier! A couple of things:
—the dumplings require a little more boiling time than the recipe specifies to make them "al dente" enough
—the salt in the cooking water is probably not necessary – we found them to be a tad too salty (just a TAD)
—we didn't need quite as much flour in the dough as the recipe specified and didn't need any flour on our work surface at all
—when you're making this with kids, they will be tempted to make other designs out of the dough. Girl made an Easter Island-type design that she called her "guy". It's hard to see in the photo, but this "guy" actually has a nose, mouth, eyes, etc.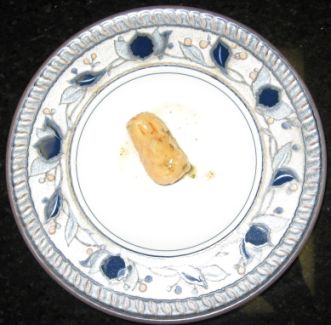 She insisted that I boil him, alone, so that he could be identified and consumed, later, individually. This will make probably the most unusual school lunch contribution that I have ever seen (this coming from a woman that actually owns Japanese hard-boiled egg molds in the shape of a fish, a truck, a bear and a rabbit).
—the brown butter gets done much faster than specified, but MAN, is it ever yummy.
These will DEFINITELY be considered for Thanksgiving. I think they would travel fairly well and could probably be microwaved, if you watched them very carefully.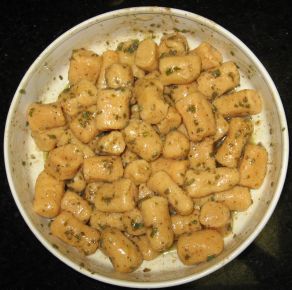 The pork chops were quite good, too. A little pedestrian, nothing too spectacular, but reliable and would be widely accepted. I cooked the onions (intentionally) for quite a long time, until they were almost caramelized. Definitely easy, a good candidate for "busy week-night" rotation, but not one for entertaining or any kind of special event. The gnocchi, however, would be a stellar candidate for that kind of thing…….