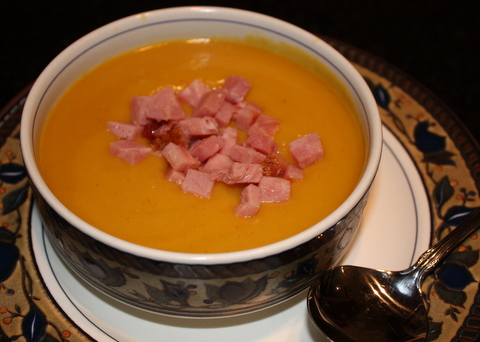 Creamy Curried Butternut Squash Soup
*squash can be roasted ahead of time, peeled and then refrigerated, until needed
* immersion blender or food processor is necessary for this recipe
one very large butternut squash (about 3 1/2 pounds)
3/4 cup finely chopped white onion
1 tsp. finely minced garlic (2 to 3 small cloves or 1 very large one)
1/2 cup dry white wine (I usually use vermouth)
2 Tbsp olive oil, plus a little more for roasting the squash
6 ounces Yukon Gold potato (three smallish or one very large one)
1 32-ounce box of vegetable broth
1 1/2 to 2 tsp curry powder
1 13.5 ounce can of unsweetened coconut milk
kosher salt and white pepper to taste
fresh cilantro, optional
Preheat oven to 400 degrees.  Cut the squash in half lengthwise and scoop out the seeds from each half with a large spoon.  Brush all of the cut surfaces very lightly with olive oil.  Place the squash halves (cut side up) on a large baking sheet and cook for about 90 minutes.
While the squash is cooking, peel the potato/es and cut them into 2-inch pieces.  Next, put them in a small saucepan and add enough cold water to cover them, then sprinkle in about 1 tsp. kosher salt.  Bring them to a boil over high heat and cook until they are fork tender.  Drain them and set aside, reserving the cooking water.
When squash is done, let it cool enough to handle and gently remove the skin by pulling it off.  Also cut off any burned or hardened edges.  Some light browning is OK and gives good flavor, so you can leave that, but you just want to remove anything really crunchy or blackened.  Set the squash aside.
In a large stockpot (or French/Dutch oven), heat the remaining olive oil until it starts to just barely shimmer.  Add the onions and saute over medium heat until they are softened and translucent.  Add the garlic and continue to saute for one more minute, stirring constantly.  Carefully (it may sputter) pour in the wine or vermouth, stirring the deglaze the pan.
Add the cooked squash and potato and stir to coat the veggie pieces with the wine/onion mixture.  Stir in 3 cups of the veggie broth and the can of coconut milk.  Stir in 1 1/2 teaspoons of the curry powder.  Puree the soup with an immersion blender*, starting at the lowest setting and working up to the medium setting, making sure to puree any lumps.   Taste the soup and add more curry powder, if necessary, and/or more vegetable stock, if necessary, to reach the desired consistency.  If you need even more liquid to reach the right consistency, add the reserved potato cooking water.  Taste the soup again and add kosher salt and white pepper to taste.
* If you don't have an immersion blender, you can puree the soup, in batches, in a food processor, blender or food mill and then return it to the pot for final seasoning.
Garnish with finely chopped fresh cilantro, if desired.
This is a REALLY delicious soup, but is VERY filling and this recipe makes a LOT.  I haven't tried to freeze it yet, but I'd bet it would freeze nicely.  If you have a little leftover New Year's ham, you could sprinkle some diced ham over the top of the soup to make any carnivores at your house happy.  Or maybe a little leftover roasted or grilled chicken, but it's not necessary.  It's plenty tasty on its own.
Nota bene:  I used 1 tsp. of Penzey's sweet curry powder and 1 tsp. Penzey's hot curry powder in our version of this soup and it was perfect for us.  Not too spicy, but plenty flavorful.  Since curry preference is pretty subjective, feel free to add more or less to suit your own taste…just start out with a little, 'cause you can always add more, but can't remove it, once it's in.