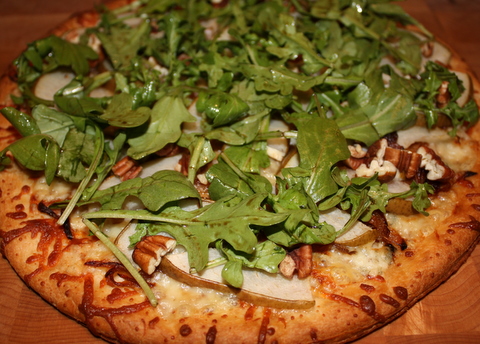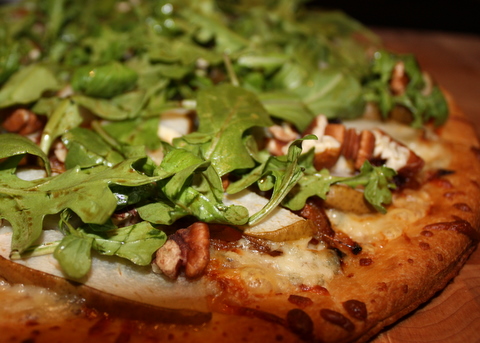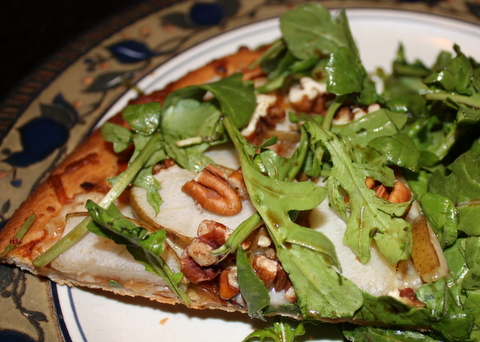 This was fantastic and came together much more quickly than I expected after a CRAZY night.  It was inspired by this recipe in Cooking Light magazine, but I adapted it quite a bit to suit Vegetarian Girl and a preference for blue cheese over provolone.
1 large pre-baked pizza shell (I used Boboli)
1 small white onion, thinly sliced
1 Tbsp unsalted butter
1 Tbsp olive oil
1 large, ripe pear, thinly sliced
1/3 cup crumbled blue cheese (I used Gorgonzola)
1/4 cup coarsely chopped pecans, toasted
4 cups baby arugula leaves
about 1 Tbsp balsamic vinegar
Preheat oven to 450 degrees.
Melt butter with olive oil in a medium-sized frying pan over medium heat.  Add onion and cook, stirring frequently, for 10-15 minutes or until the onion is soft and lightly browned all over.  Spread onions evenly over pizza crust.
Sprinkle cheese evenly over onions, then top with pear slices.
Bake pizza for 10 – 15 minutes or until cheese is thoroughly melted and crust is lightly browned.
Remove pizza from oven and top with toasted nuts.
Toss arugula with vinegar (you may not need all the vinegar) and place a nice layer of it over the top of the pizza.
Cut the pizza into wedges and serve with any leftover arugula on the side.