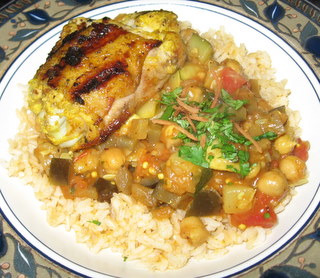 Absolutely wonderful.  We all loved this.  Girl had her stew, obviously, sans chicken.
Flavorful and spicy, but not too hot.  Savory and tangy.  The chicken was moist and meaty. Not too difficult or time-consuming.
Fine Cooking's website is subscription-only, but I've included the recipe links, anyway, because sometimes they will let you look at certain recipes for free or they'll let you look at two or three before they shut you out and ask you to sign up for a membership.  Good luck; I hope you can see them!  In general, I don't like paying extra for the website membership if I already subscribe to the magazine, but for Fine Cooking, it's worth it.