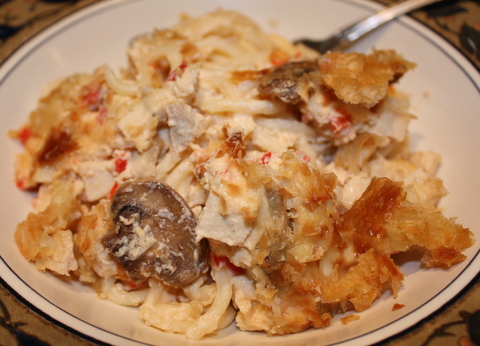 This recipe has been in my family for so long, I don't remember which cookbook it came from, originally.  It was one of those civic/charity league cookbooks, I think…Junior League of Tyler, perhaps?  My mom gave it to me MANY moons ago and we've served it for quite a few "Help!  I need to feed a crowd!" occasions since, including Hubby's graduation from the police academy and Girl's christening, although I haven't made it in a VERY long time.  I've adapted it significantly enough from the original version that I feel that I can now call it my own.  This is a real winner of a recipe, since it can be prepared ahead of time and only takes 20 minutes in the oven before serving.  It is very rich and creamy…not a "healthy" recipe, by any stretch of the imagination, but it's pretty universally appealing (all but the most finicky kids seem to like it and the mushrooms are big enough to pick out, if anyone objects to them) and hearty enough to not need a lot of side dishes.  We're having a small crowd over for dinner tomorrow night, so I think it's time to dust this one off again…
Chicken Spaghetti for 25
12 skinless, bone-in chicken breasts
1 white onion, sliced
4 celery ribs, cut into 2-inch pieces
2 bay leaves
2 whole peppercorns
one bunch of Italian flat-leaf parsley
1 teaspoon dried thyme leaves
2 carrots,  cut into 2-inch pieces (or about 8 baby carrots, cut in half)
4  1/2 cups white wine, divided (you'll need a little more than one bottle and can save the remainder of the second bottle to drink with the completed spaghetti – remember:  don't ever cook with a bottle that you wouldn't drink)
3/4 cup butter
3/4 cup flour
2 cups half and half
4 1/2 cups sour cream
3 4-ounce jars of chopped pimientos
3 8-ounce jars mushroom pieces (or 2 1-pound boxes of fresh, sliced mushrooms, sauteed until golden browned and softened)
juice of 3 lemons
2 T Worcestershire sauce
dash cayenne pepper
salt and white pepper to taste
3 1/2 cups freshly grated Parmesan cheese
1 1/2 pounds spaghetti noodles
1 package Pepperidge Farms pastry shells, baked according to package directions
Place chicken, onion, celery, bay leaves, peppercorns, parsley stems (not the leaves), thyme and carrots in a large, covered stockpot.  Add 3 cups of wine and enough water to cover and simmer until chicken is thoroughly cooked, but still tender.  Strain and reserve chicken stock.  Remove chicken meat from bones and dice it.
Melt butter in a large saucepan and add flour; cook for 1 minute.  Add half-and-half, sour cream and 3 cups of the reserved chicken stock; blend well.  Add pimientos, mushrooms, lemon juice, Worcestershire, cayenne, salt, pepper, 3/4 cup of the Parmesan cheese and the chicken.

Unbaked casseroles, ready to go in the oven (or freezer.)
Preheat oven to 350 degrees.
Cook spaghetti in the remaining reserved chicken stock and remaining 1 and 1/2 cups wine according to the package directions (maybe undercook it just a TINY bit, because it will absorb more liquid as it bakes later), adding more water, if necessary, and drain.  Divide the spaghetti evenly among three 8-inch X 12-inch or 9-inch X 13-inch Pyrex-type (oven-safe) baking dishes.  Cover each with equal amounts of the chicken sauce.  Top with remaining Parmesan cheese.  Crumble pastry shells on top of each dish.  If desired, casserole can be frozen, at this point. (cover tightly with plastic wrap and then foil.  Thaw in refrigerator for 24 hours before cooking.)
Bake casseroles, uncovered, at 350 degrees for 20 minutes or until bubbly.  Remove from oven and top with finely chopped parsley leaves for garnish (I forgot to do this last night.)