Wicked good….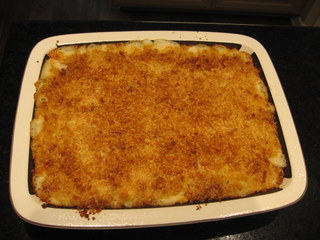 Baked Macaroni and Cheese
3/4 lb of your favorite pasta, cooked according to package directions and drained
1 stick butter plus 3 Tbsp butter
1/2 cup flour
2 cups milk
3 cups shredded sharp cheddar cheese
a dash of Worcestershire sauce
1 cup dry bread crumbs (I use half regular and half panko)
1/3 cup freshly grated Parmesan cheese
seasoning options:
dash of dry mustard
dash of Worcestershire sauce
dash of paprika
dash of Baby Bam
dash of my new favorite seasoning (Simply Organic all-purpose seasoning – salt free!)
salt and pepper (white pepper is great, if you have it on hand)
finely chopped fresh herbs (parsley? oregano?)
Preheat oven to 375 degrees.
In a large saucepan, melt 1 stick of butter over medium-low heat. Once butter is melted, whisk in the flour and cook until fully incorporated and thickened (2 – 3 minutes?). Stir in milk and continue cooking and whisking until smooth, thick and warmed through. Stir in 2 3/4 cups of the cheddar cheese to blend. Add seasonings as desired. Pour over pasta and stir to thoroughly coat. Pour into lightly greased baking pan. Melt remaining butter and blend with breadcrumbs, remaining 1/4 cup cheedar and the Parmesan cheese. Sprinkle over pasta/cheese in the pan. Bake, uncovered, for 25 to 30 minutes, or until bread crumbs are toasted and cheese is golden and bubbling.
Kids will ask for seconds, guaranteed.