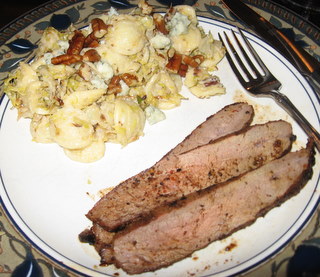 This dinner tasted a lot better than my stinky photo makes it look.  I overcooked the steak a little bit and I undercooked the brussels sprouts a little bit, but both dishes tasted WONDERFUL.  The pasta was very rich and cheesy and creamy and the steak had just enough spice on it.  Girl, of course, only ate the pasta, and the meat was a tiny bit too spicy for Boy, but he still ate it enthusiastically.  The leftovers would be great tucked into a pita with some tzatziki and lettuce.
I highly recommend d'Arenberg Stump Jump Shiraz with this.  There's a straight shiraz and there's a shiraz-mourvedre-grenache blend.  They're both good, but the straight shiraz is better and the 2008 is better than the 2007, but even the 2007 blend is still pretty good.
These recipes are, again, from Fine Cooking's website, but I'm including the links…just in case.
Orecchiette recipe here.
Flank steak recipe here.