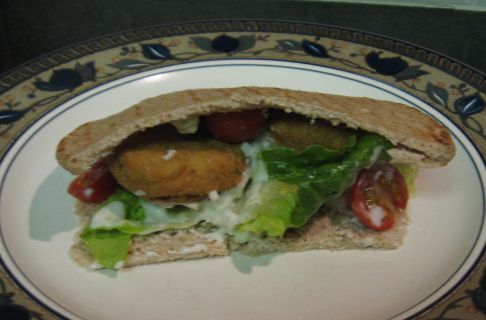 Ingredients
4 to 6 pita pocket breads (we like the whole wheat ones)
hearts of romaine lettuce leaves
your choice of tomatoes (sliced Romas, or halved cherry or grape tomatoes are good)
one batch Tzatziki (recipe follows)
one batch Falafel (recipe follows)
Tzatziki
1 small (6 ounce) container of plain yogurt
3/4 cup peeled, seeded, diced cucumber
(I used two "baby" seedless ones)
3 cloves garlic, minced or pressed
1 tsp. white balsamic vinegar
1 Tbsp. olive oil
salt and pepper to taste
a sprinkle each of paprika and dill
Gently blend stir all ingredients together. Flavors are better if you make this a day before you need it.
WARNING!: This is VERY garlicky tzatziki, so garlicky that's it's "hot". If this thought frightens you (or those that live with you), feel free to cut back on the garlic amount to your taste.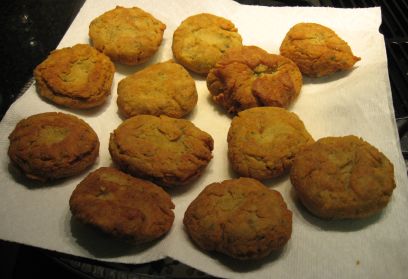 Falafel
1 15 oz. can garbanzo beans, with liquid
1/2 cup finely chopped white onion
2 garlic cloves, minced or pressed
1 Tbsp. olive oil
about 1 cup garbanzo bean flour
2 Tbsp. minced Italian parsley
1 tsp. ground coriander seed
1 tsp. ground cumin seed
1/2 tsp. salt
a sprinkle of pepper to taste
canola oil to fry the falafel (2 – 3 cups?)
Saute onion and garlic in olive oil until soft. Combine chickpeas, garlic, onion, coriander, cumin, salt, pepper and 1/2 cup of garbanzo flour in medium-sized bowl. Mash with a potato masher into a smooth, thick paste (use blender or food processor, if you prefer). Scoop paste out with a large spoon, about 1/4 cup at a time, and form into small balls, about 1 and 1/2 inches across, then flatten them slightly into "cakes". Dredge them, one at a time, in the remaining 1/2 cup of garbanzo flour. Fry falafel patties in about 2 inches of canola oil until golden brown (2-5 minutes), turning once. (I actually should have cooked the ones in the photos a few minutes longer, so cook yours until they're a little darker.) Drain on paper towels. Makes about 12 falafel patties.
NOTE: If you can't find garbanzo bean flour, or just don't want to mess with it, you can drain the liquid from the garbanzo beans and just omit the garbanzo flour. If you still can't reach the right "pasty" consistency, you can add just enough regular all-purpose flour to reach the right texture.
To make sandwiches:
Cut an inch or so off one edge of pita bread and gently open to create a pocket inside (mine tore a little – sometimes microwaving the bread for 15 -20 seconds, wrapped in a damp paper towel, helps to soften it). Gently place some romaine lettuce leaves and tomatoes inside. Add 2 or 3 falafel, then spoon in the tzatziki. Have lots of napkins on hand! Yum, yum, yum!