This was VERY easy, quick and tasty and was a big hit with both Boy and Girl.
This dish has definitely earned a spot in our permanent rotation. It's not an "authentic" curry, but it super kid-friendly. I actually have a wonderful curry recipe from an Indian co-worker of Hubby's. It has just the right amount of spice and is delicious, but more labor-intensive and much less kid-friendly than this version. I should have made that while the kids were at camp – DRAT.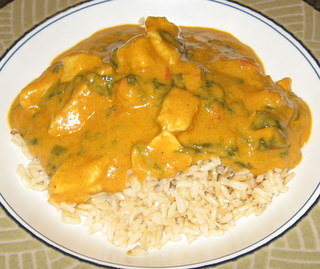 It's not a terribly picturesque dish, but it was delicious.
I started out with this recipe from Family Fun magazine, but adapted it a little.
NB: About 2 cups of rice (uncooked) is the right amount to prepare to go with this.
– I used fresh, seeded and chopped tomato (1 cup) instead of canned and added them after cooking the onions, but before adding the other ingredients, so that they could soften a little.
– I added some chicken stock to the sauce (I had some left over from what I used to cook the accompanying rice).
– I pureed the sauce before adding the chicken because I knew that Boy would not be a fan of visible chunks of tomato.
– I browned the pieces of chicken separately a little bit before adding them to the sauce.
The next time that I make this, I will add a little bit more curry powder and will add more spinach.