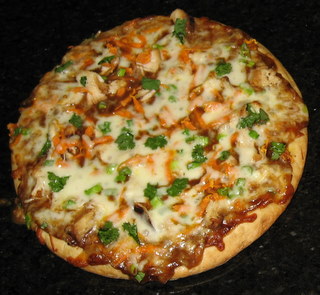 Mmmm….
These are REALLY yummy – they have been a bit too "exotic" and spicy for the kids in the past, but I'm going to try them again tonight and see what they say. I'll cut down a bit on the chile paste for them.
Thai Chicken Pizzas
(adapted from a recipe in the June 2004 issue of Cooking Light magazine)
Peanut sauce and chile paste with garlic may be found on the ethnic food aisle of most large supermarkets. Chile paste is quite spicy, so adjust the amount to suit your personal taste. The original Cooking Light recipe called for pita breads, instead of pizza shells. I know that the pitas would make the recipe healthier (lower carb), but the pizza shells are better – you can decide which is more important to you – for us, it depends on the day……
1/4 cup hoisin sauce
3 Tbsp. peanut sauce
1 to 3 reaspoons chile paste with garlic
4 small pizza shells (such as 8″ Boboli)
2 cups sliced cooked chicken (I used chicken that was marinated overnight in Teriyaki sauce, then grilled)
1 cup shredded carrot
1 cup fresh bean sprouts, optional
1/4 cup sliced green onions
2 Tbsp. chopped fresh cilantro
1 cup (4 ounces) shredded part-skim mozzarella cheese
Preheat oven to 450 degrees. Combine first 3 ingredients, stir well. Place pizza shells on a large baking sheet. Spread 2 tablespoons sauce mixture on each pizza shell. Top each one with 1/2 cup chicken, 1/4 cup carrot, 1/4 cup bean sprouts, and 1 tablespoon green onions. Sprinkle cilantro and shredded cheese evenly over each pita.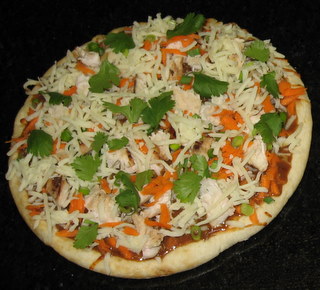 Unbaked pizza.
Bake at 450 degrees for 8 – 12 minutes or until thoroughly heated and lightly browned around edges, or follow directions on pizza shell label. Remove from oven and cut each pizza into 4 wedges.
Yield: 4 (2 wedges each) servings.
I like to serve these with this Avocado and Mango Salad with Passion Fruit Vinaigrette from Bon Appetit. The passion fruit puree is hard to find, but you can mail order it from Amazon.com, or I have used a Welch's frozen passion fruit juice concentrate blend (with apple and white grape juice in it, I think) with pretty good success.