Every year since Girl was in Kindergarten, I have prepared this meal as a "thank you" to the teachers. I usually prepare it for the last field trip of the school year (so they don't have to worry about lunch packing in addition to trip-planning), but this year, that date got away from me, so I made it yesterday. Boy and Girl have both had a fabulous year (and Girl is leaving this school next year, so this was also a "goodbye" for her), so I expanded the list from just the classroom teachers (as I've done in the past), to include coaches, music and drama teachers, spanish & art teachers, etc. By the time the list was done, I found myself cooking for 21 very deserving educators. The entire menu was printed in the June 2000 issue of Bon Appetit and is also great for picnics. Click on the foods for recipes.
Deviled Eggs with Tarragon & Capers
Spicy Oven-Fried Chicken
This recipe calls for bone-in breasts, which are more flavorful than boneless, but are also more difficult to eat, especially in a "picnic"-type lunch where you might not have a proper plate, fork and knife. I prefer to use the boneless, skinless chicken breasts. You can marinate, bread and bake them according the regular recipe directions, or you can cut the breasts into smaller pieces and flatten them gently (like this), for even smaller (easy to pick up and eat with your fingers, like chicken strips for grownups) serving pieces.
Green Bean, Yellow Bean & Cherry Tomato Salad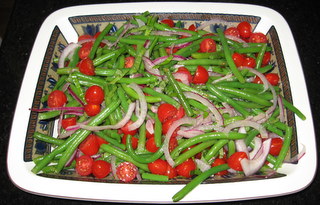 Macaroni Salad with Peas & Ham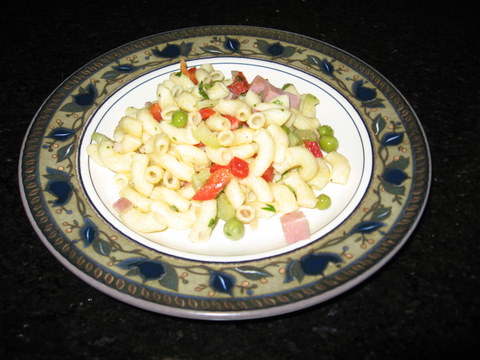 I always serve this lunch with "Triple Chocolate Peppermint Brownies" and Homemade Lemonade. This year, I served the lemonade in special water bottles that I purchased (and ran through the dishwasher beforehand) that have a freezable ice stick inside to keep the drinks cold.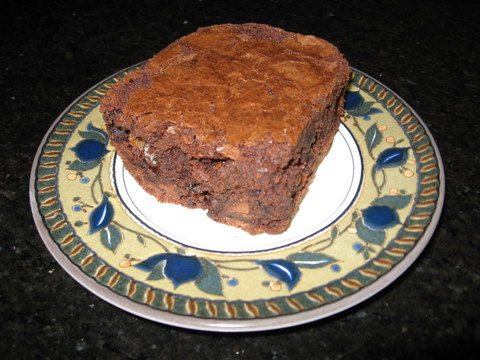 For the brownies, I use Ghirardelli Triple Chocolate Brownie mix (it comes in a box from Costco, with 6 individual mixes in it – 2 mixes makes a 9 x 13 pan) and add 10 chopped (quartered) York Peppermint Patties (the small ones that are about 1.5 inches across) and 2 or 3 drops of peppermint extract per bag of mix. Bake according to the normal package directions.
For Homemade Lemonade: Mix together 2 quarts of water, 1 cup of sugar and 1 1/2 cups freshly squeezed and strained lemon juice.
Strawberry Lemonade Variation:
During strawberry season, I'll run some fresh strawberries through my juicer and add about 1/2 cup of the juice to the the lemonade – Boy and Girl LOVE this!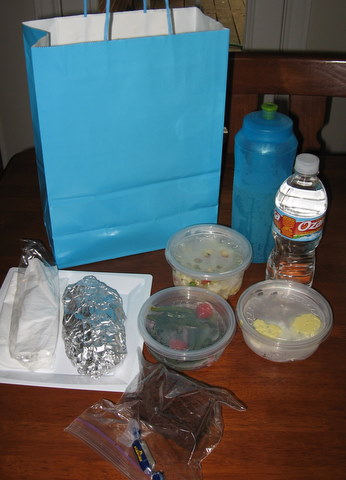 I packed the lunches in individual bags with an ice pack, with little containers (from a restaurant supply) of each food. The chicken is in foil. The brownies were packed in little ziplocs, with one of my favorite mints (Perugina Glacia) taped to the side (this menu has lots of onion, so I thought the teachers might appreciate that after eating!). I also included a small, disposable plastic plate (better than eating out of containers!) and one of those packets with napkin, plastic knife, fork and spoon and some salt and pepper (also from the restaurant supply). Next year, I'm going to try to find some individual lunch boxes or inexpensive coolers, because the cold lemonade bottles and ice packs made the paper lunch sacks disintegrate a little as they got wet from condensation.