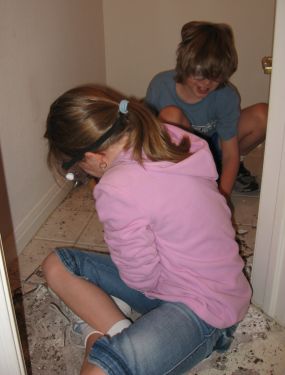 If you're going to force your children to help you demolish the old tile in your bathroom before installing the new tile, you should DEFINITELY make sure that they are wearing safety goggles.
Actually, they loved this (bang away at the floor and break stuff with hammers? what's not to like?) and were very helpful…..
This is how we spent the day that Boy broke his arm – ripping out old carpet, padding and tile in the bathroom, then Hubby and Boy went up on the roof and cleaned the gutters. We needed a break, so Hubby took the kids for a bike ride (I chose to stay at home with a glass of wine). Would have been a fabulous day had the bike ride not ended with a trip to the ER…..