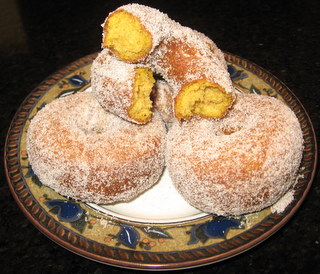 Pumpkin-Nut Doughnuts
For doughnuts:
2 3/4 cups flour
2/3 cups almond flour (finely ground almonds)
3 tsp. baking powder
1 1/2 tsp baking soda
1 tsp cinnamon
1 tsp freshly ground nutmeg
1/2 tsp ground ginger
1/8 tsp ground cloves
1 1/2 tsp salt
1/2 cup pumpkin puree
1/4 cup whole milk
2 heaping Tbsp sour cream
heaping 1/2 cup sugar
2 eggs
1/2 stick melted butter
For cinnamon-sugar coating:
1 heaping cup sugar
1 tsp ground cinnamon
In a large bowl, mix together the flour, almond flour, baking powder, baking soda, cinnamon, nutmeg, ginger, cloves and salt.
In a medium bowl, stir together the pumpkin, milk, sour cream, sugar, eggs and melted butter. Gently stir this mixture into the dry ingredients until it begins to hold together as a soft, sticky dough. It's OK if it's a bit lumpy.
Turn the dough out onto a lightly floured surface and knead just until you have a smooth dough. Sprinkle a little more flour over the top of the dough and roll it out to a 1/2 inch thickness. Using a doughnut cutter (or two round cookie cutters – one about 1 inch across and another about 4 inches across,) cut out the doughnuts and put them on a cookie sheet dusted with some flour.
Pour at least 2 inches of canola oil into a large, deep frying pan and heat it over high heat until it reaches 375 degrees (this takes a while!) Fry about 4 to 5 doughnuts at a time, depending upon the size of the pan. Do not crowd the pan. The doughnuts will sink to the bottom of the oil, then float back up to the top. When they float to the top, turn them over and cook them for another 1 to 2 minutes until uniformly browned. Be careful not to overcook them.
Fry the doughnut holes separately, watching them carefully, as they will cook VERY quickly.
Drain the doughnuts and holes on paper towels for a moment and then, while still hot, coat them with the cinnamon sugar. Coat the doughnuts a few at a time, as they come out of the oil, rather than waiting to coat them all at the same time.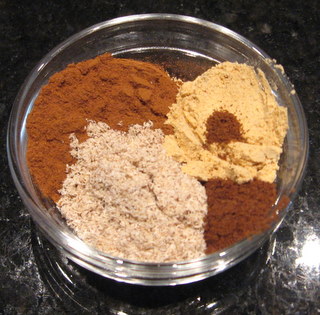 Yummy spices!