From January 2009 Cooking Light magazine. Recipe here.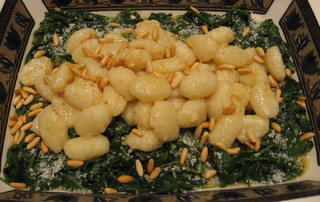 Meh.
Needed more brown butter than the 2 Tbsp specified to give it enough flavor. Pre-packaged gnocchi definitely leave a LOT to be desired. I would make this again, with homemade gnocchi (don't get scared off by the recipe, gnocchi are EASY), adding a little extra browned butter.
A good vegetarian meal for Girl, though, and a good, easy and quick side dish to accompany Chicken al mattone for the rest of us.