Holy cow, does our family ever love these brussel sprouts. Seriously, it's a visceral thing. I could eat a pound of them. Every day. They are absolutely addicting. On the rare days when we actually have some left over, I've been known to have them for breakfast the next day. But…Girl is now a vegetarian. And that means no pancetta. Well, I'm not insane; it means no bacon for HER. The rest of us still have the original version, but I had to come up with a version for her that would be as tasty (well, close to as tasty…I mean, you can't just leave bacon out of a dish and expect it to still be as tasty!)
So, anyway…this is the version that I came up with and it was actually quite nice and, with the added nuts and cheese, managed to give her a bit of much-needed protein.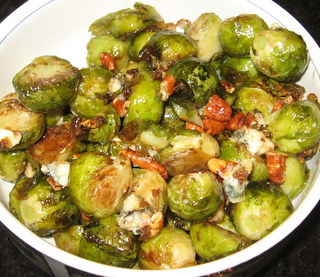 Oven-Roasted Brussel Sprouts
1 pound fresh brussel sprouts, washed and halved
3 Tbsp olive oil
2 garlic cloves, minced (or run through a garlic press)
1 – 2 Tbsp balsamic vinegar
1 -2 tsp. fresh thyme leaves (removed from woody stems)
kosher salt and freshly ground pepper to taste
1/4 cup toasted pecans, coarsely chopped
(Bake at 250 degrees until fragrant and lightly browned)
2 Tbsp crumbled Blue cheese
Preheat oven to 450 degrees. Toss sprouts with olive oil, garlic, salt and pepper and pour into a medium-sized baking pan (you don't want the sprouts to be too crowded.) Bake for 15 – 20 minutes, or until soft and darkish brown around the edges, turning and tossing about every 5 minutes until uniformly cooked. Sprinkle with vinegar and thyme and stir in to incorporate. Cook for another 3 – 5 minutes, or until vinegar is thickened and absorbed. Remove from oven and sprinkle with the pecans and cheese. Serve.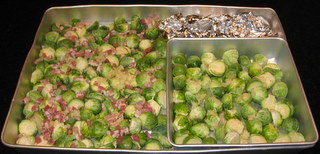 Vegetarian and Carnivorous Sprouts, ready to go in the oven together.