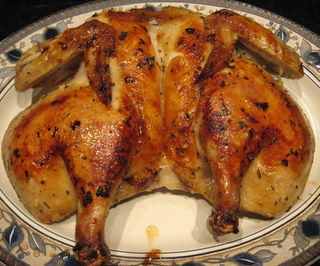 When I saw this recipe on the cover of September's (2009) Bon Appetit magazine, I knew that I would have to try it. I have an overabundance of pride about my ability to butterfly (spatchcock) a chicken, so I tend to get a little excited when I see a recipe that requires that particular technique. A recipe that also incorporates garlic, red pepper, rosemary and lemon? Well, where do I sign?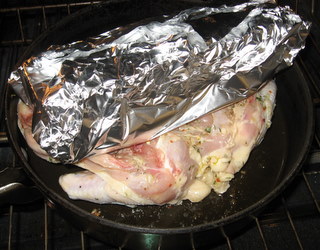 Going into the oven, under the foil-wrapped brick.
This was REALLY easy (the trickiest part is the butterflying, but it's simple once you get the knack – there are lots of videos on YouTube – I'll probably make my own soon) and absolutely gorgeous and delicious. I love cooking whole chickens, because everyone gets to pick their favorite: dark meat or light? drumstick or breast? The chicken stayed moist and had lots of great flavor. This will definitely be a "keeper." If I make it again for adults only, I'll up the level of red pepper flakes a bit.