I mentioned (here) that I was going to be making these recipes a couple of days ago, depending upon the open-mindedness of our Saturday night dinner guests. Well, the dinner guests were game, but I hadn't read the recipe thoroughly enough and didn't notice that the chicken had to sit overnight with the tomato-cashew mixture, so…. as I was beginning to prepare the meal, I realized we would have to go with a "Plan B" and ordered pizza. We ended up having our lovely, planned Indian meal on Sunday instead. Good news? It was a big hit and we will definitely be making both dishes again. The kids loved them both (the chicken was a tad spicier than Girl normally likes, but she just added more rice and it was fine.) Boy even asked "Is there any more of that toast dessert?" after dinner the next night (there was.)
So, here are the recipes again: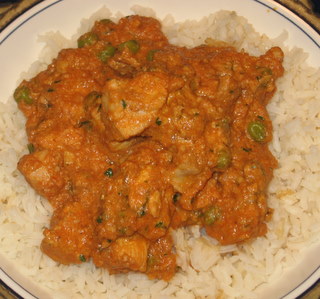 I added about 1 cup of frozen, thawed green peas to this dish, just to get a veggie in the meal. If I make it again, I wish add a few whole, toasted cashews at the end, just to make it a little bit more obvious what the composition of the dish is.
Indian Bread Pudding with Cardamom Sauce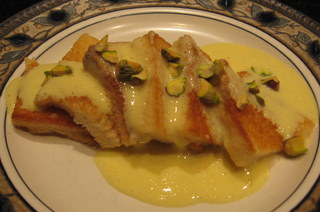 This dessert was delicious – as is – I wouldn't change a thing. It was very good and pretty quick and easy. It makes a lovely presentation on the plate, too; it would be great for a dinner party. I don't usually keep plain, white bread in the house (ewwww…), but it's worth it to tolerate some for this dish!