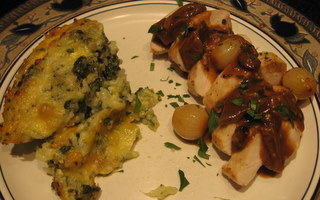 OK, so this isn't exactly a menu I would put together if I were planning it from scratch, but I still have a TON of that leftover rice around here, so as I was searching through my recipe files *(see photo below), looking for a recipe that called for pre-cooked rice, I came across this one (available online here.)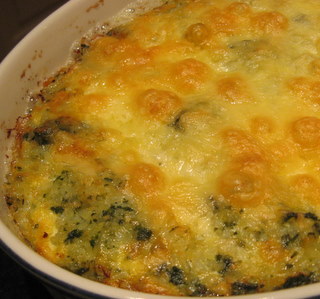 This stuff was a great big hit. Almost all of us had seconds. It was EASY. Not gourmet or even particularly healthy, but easy. It would be a little more complicated if you didn't already have pre-cooked rice on hand, but not too bad. I used onion powder, instead of onion flakes and also added a little Baby Bam. If I make it again, I would probably use a little fresh, minced onion, sauteed in butter.
I've been planning to make this chicken for a while and already had the ingredients on hand. It's adapted from this Cooking Light recipe.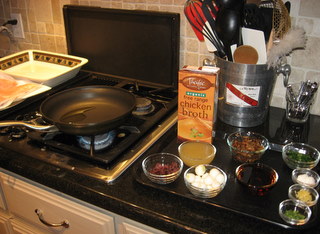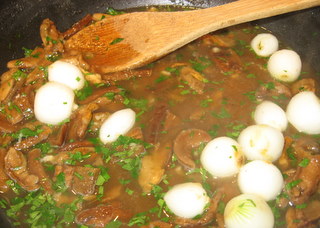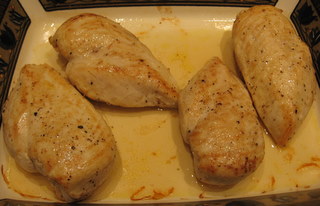 The tart recipe was a timely find from last January's Food & Wine magazine. I try to cook seasonally, but am frequently so far behind on reading my cooking periodicals that I end up using recipes from the same month of the previous year. Makes no sense, I know, but I recently did a HUGE clean-out of my recipe files and came across this one. An opportunity to make citrus supremes into a dessert? Perfect timing – see? – it's January. Again.
Anyway…
We are huge fans of the seasonal Cara Cara oranges that are out right now. I've been making them into supremes for the kids' lunches almost daily (her friends fight over any leftovers); I've used them in a rice pudding, I've baked them into cookies and Parisian macaroons, I've stirred them into cocktails. They are DELICIOUS. The tart calls for a TON of blood oranges and, while Cara Caras aren't an EXACT substitution for blood oranges, they are close enough.
The tart has to freeze overnight, so we'll have it tomorrow. Stay tuned for more info, but here are some photos from the tart prep: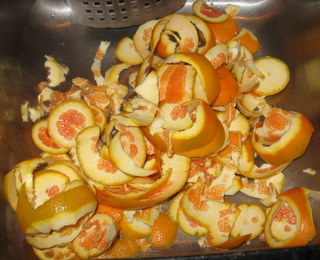 My sink, after peeling 9 oranges. Hubby said it looked like some sort of weird "Top Chef" challenge.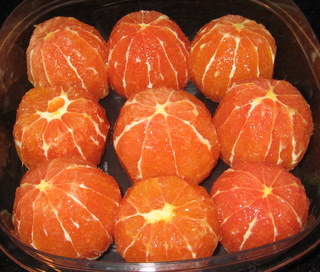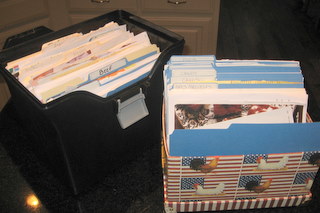 When I'm not culling through my old recipe files (collected over the past 20 years or so from newspapers, cooking magazines and online sources), I'm scouring through my cookbooks: