Yet another use for this massive amount of leftover rice that I have hanging around here….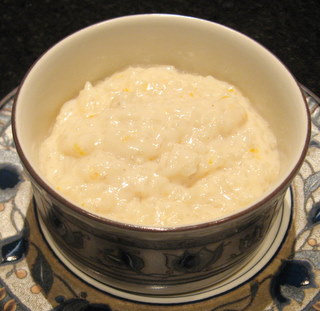 Cara Cara Orange Rice Pudding
2 cups leftover cooked white rice
1 Tbsp unsalted butter
3 cups milk (any kind)
1/2 cup sugar
small pinch salt
1 tsp vanilla extract
1/2 tsp Cinnamon Spice Blend
finely grated rind (be careful – no pith!) of one Cara Cara orange
Combine cooked rice, butter, milk, sugar and salt in a medium-sized heavy saucepan. Bring to a boil, then lower the heat to a simmer. Stir in the vanilla. Cook until almost all of the milk is absorbed (about 30 to 45 minutes). Stir in the cinnamon spice blend and orange peel. Portion the pudding into individual serving dishes. Serve immediately, if you like it warm or chill overnight and serve cold.
Makes 4 large servings or 6 small ones.