David Burke and Donatella. This was a magical experience. The food was wonderful, but our waiter, Sammy, elevated the meal to a much higher level than it would have been otherwise. If you have an opportunity to eat here, ask to be seated in Sammy's section. You won't regret it.
We went for Sunday brunch. The restaurant is very compact, with the tables very close together, but it manages to not feel crowded or cramped, even though, particularly at the banquettes, you are practically sharing a table with your next-door neighbors.
The fixtures and art in the room are very colorful and whimsical, with lots of bright reds. It is not a terribly formal restaurant, although the food is definitely upscale. The butter that comes out with the bread basket is sculpted into a piece of miniature modern art and sprinkled with pink Australian Murray River salt flakes.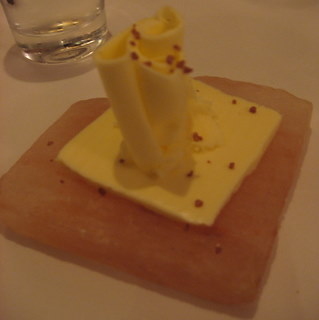 The amuse bouche was probably the best that I've ever had in any restaurant, EVER. It was a concoction of foie gras, served in a miniature French canning jar and topped with a skewered, Cognac-soaked, deep fried grape. It was positively transcendent.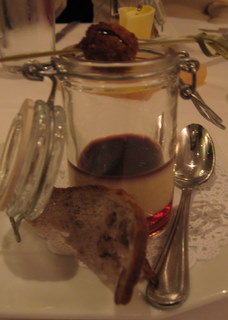 I started with the pretzel-crusted crabcake; Mom started with the salmon and tuna tartare. I forgot to take photos of either of these, but they were both delicious (we shared). Mom's fish was served on a huge, rough slab of Murray River salt about 12 inches by 8 inches and about 2 inches thick. They apparently clean the slabs off between uses with a boiling hot towel to minimize melt, but kill any germs. Each slab must be worth hundreds of dollars. The crabcake was very unusual, but wonderful. The inside was the purest, most luscious crab salad that you've ever had, surrounded by a layer of crisp pretzel sticks and sprinkled with tiny Chinese rice puffs. I found a photo that someone else has taken here.

For the next course, Mom had the lobster scramble (very rich and earthy) and I had the "Rueben" Benedict. It was like Eggs Benedict, only not. Instead of Canadian bacon, there was pastrami-cured salmon. Instead of cabbage kraut, there was zucchini kraut. Instead of Hollandaise, there was Russian dressing. It was all served with an overflowing heap of crisp, shoestring potatoes. Absolutely delicious. The salmon was very interesting, but wonderful.
For dessert, we just asked Sammy to surprise us, to bring us his favorite desserts. He chose wisely, with a warm apple tart for me and a coconut layer cake for Mom, plus an other-worldly,obscenely-sized cheesecake lollipop tree for us to share.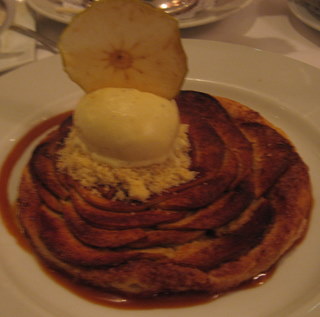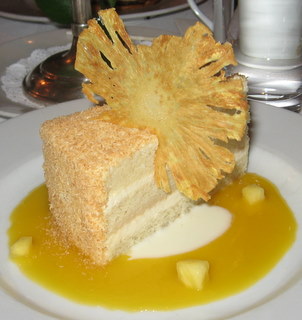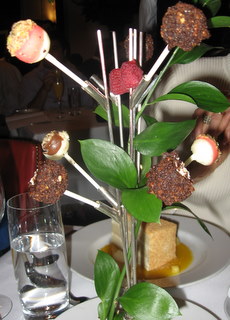 We were so full by the end of this meal that we were physically uncomfortable, but it was SO good. The lollipop tree was very fun, but so over-the-top and excessive that it was humorous. It was served with a separate dish of bubble gum-flavored whipped cream for dipping into. It towered over the table and created a HUGE spectacle when it was brought out to us, but it was very festive and I'm actually thinking of trying to re-create it for Thanksgiving. I found a display stand that might work here. I think that I'll just need to make a thick cheesecake (I'm planning pumpkin) and then use a melon baller or small scoop to make balls out of the (very cold) cheesecake and then roll them in melted chocolate (I'll probably make some with dark chocolate and some with white chocolate) and then decorate with sprinkles or chopped toasted nuts or maybe even crushed toasted pumpkin seeds. I'll post an update if I actually manage to pull that off!