Adour Restaurant, in the St. Regis hotel is Alain Ducasse's newest venture. It occupies the space that formerly housed L'Espinasse. Check out The New Yorker's review here. The restaurant is absolutely gorgeous. It is apparent that no expense has been spared, from the custom-fitted, curved glass floor-to-ceiling glass panels that line the room to the little pull-out "minaudiere trays" that are fitted into the side of each chair.
The service is lovely and very attentive. Descriptions of the food are clear and helpful and the staff gently guided us to wines that matched our selections (I don't remember talking to a separate sommelier, which, now that I think of it, is actually a little surprising, but our waiter was very helpful).
We did have two slightly misbehaved tables near us: one with a whiny toddler and one with a woman that spent pretty much the entire evening on her cellphone. I must admit, though, that I wasn't too much bothered (they really weren't that loud, in the absolute) by them. They provided me just the excuse that I needed to not feel guilty about "disturbing the atmosphere" by taking photos. If they had not been there, I would NOT have taken photos. The dining room is small and quiet and tables are close together. The room is dark romantically lit, at least at dinnertime, so, normally, flashes going off would be very disruptive.
The food was elegantly executed and absolutely delicious. The desserts were maybe the "weakest linK" and weren't as strong as the actual meal, but it could just be that we were so full of lovely dinner, that we didn't have as much room for dessert and weren't hungry enough to properly enjoy it.
We started with the Glazed Multicolor Vegetable Composition, which was divine. The vegetables (from what we could identify: potatoes, leeks, turnips, parsnips, carrots, onions, and green beans) were fresh and tender and the glaze was savory, with just the right amount of salt.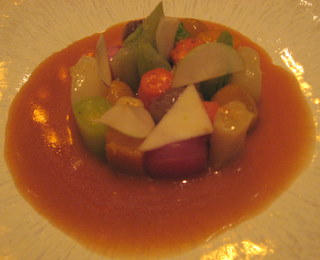 I had the scallops and my mom had the duck (see the menu here for descriptions). They were both wonderful. So wonderful that I forgot to take a photo, but they were GREAT!.
For dessert, my mother had a pineapple parfait-type dessert (I don't remember the exact name of it and Adour doesn't have their dessert menu online) that was REALLY good, but HUGE. It had some mango and coconut elements in it, too.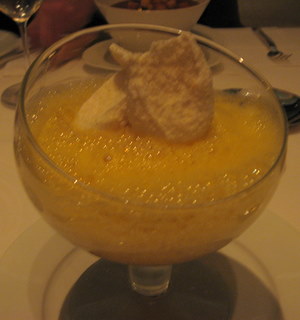 My dessert was a chocolate composition that had a hard chocolate shell on top with some cold ice-creamy stuff underneath. You had to break through the chocolate to eat the dessert. It was topped with gold leaf and caramelized brioche croutons. It was quite yummy, but also very rich. I didn't come CLOSE to eating it all.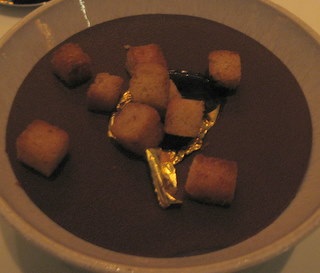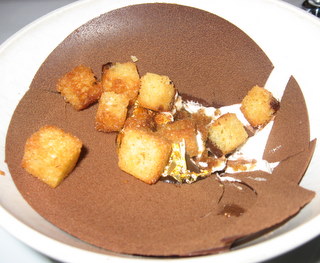 Overall, this was a lovely meal. I also had a lovely pre-prandial apple cocktail that had icewine in it. I don't remember the other ingredients or what it was called, but it was quite good.