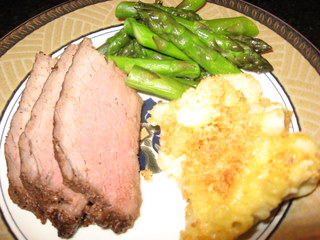 I made this using a pre-mixed spice rub from Williams Sonoma, but I can no longer find the blend in their stores or on their website, so I will have to get creative and come up with my own mix when I make this again. That shouldn't be too hard. Bobby Flay has a good-looking recipe here.
The directions were really easy; you just had to rub the meat (I used London Broil) with a little oil and then rub it with the spice mix and grill. It was really good. The coffee added rich flavor without being overwhelming. Will make this again.
I made the leftovers into a kid-friendly Shepherd's Pie.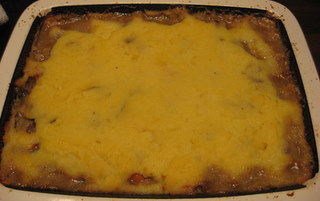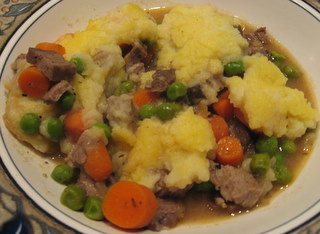 Here's how:
Preheat your oven to 400 degrees. Chop leftover beef into bite-sized pieces.
Grab some leftover mashed potatoes and mix them with a little milk and one egg yolk to reach a spreadable consistency.
Saute some finely chopped white onion in a tiny bit of oil until softened. Add some diced carrots and cook until they are softened but not mushy. Add some frozen green peas. Cook 2 – 3 more minutes until peas are thawed, but not cooked through.
Pour in some leftover gravy (I used leftover chicken gravy, because that's what I had on hand and was a little worried that it would be weird, but it worked just fine) and the beef cubes and stir gently to combine.
Pour the veggie-beef-gravy mixture into a shallow baking pan. Spread the mashed potato mixture over the top, to the edges of the pan.
Bake until the potatoes are slightly firmed and the gravy is bubbling, about 30 minutes.
Stand back after you serve this. Your kids will be gobbling so quickly that you won't want to get in their way!