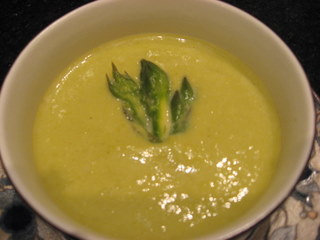 This was SO yummy and very easy.
Asparagus Soup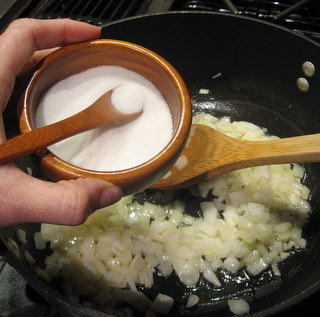 Melt 2 Tbsp. unsalted butter in a large, heavy saucepan over medium-high heat. Add some coarsely chopped, yellow onion (about 3/4 cup to 1 cup) and a pinch of salt (I LOOOOOOVE my little wooden salt bowl. I bought it in Costa Rica and that little spoon holds precisely 1/4 tsp.) and pepper. Cook, stirring occasionally, until onion is softened, translucent and just starting to brown, lowering heat if necessary to avoid scorching.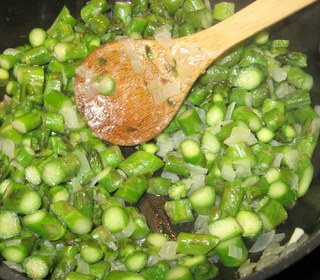 Add 2 pounds coarsely chopped asparagus,with the woody ends removed and discarded. Continue cooking and stirring for about 5 more minutes. (To remove the ends, I bend each stalk until it snaps and breaks, at the natural junction where the woody part ends.)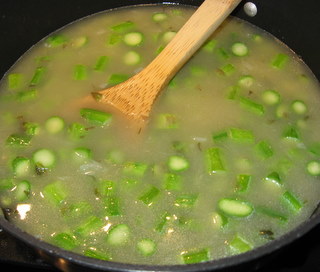 Add chicken stock to cover (about 6 cups) and simmer, about 20 more minutes, or until asparagus is softened. Lower heat and/or add more chicken stock, if necessary, during cooking.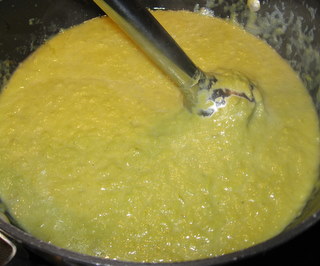 Remove soup from heat and stir in 1/4 cup half-and-half (or cream, if you're feeling naughty) and 1/4 cup sour cream and a tiny squeeze of fresh lemon juice (about 1 tsp.). Puree soup carefully, using a blender, preferably an immersion one. If you must use a countertop blender, do so very carefully as the liquid will be VERY hot and you will likely need to puree it in multiple batches.
Garnish with whatever strikes your fancy: chopped chives or parsley, a shaving of parmesan, croutons, some asparagus tops that have been steamed or sauteed separately or even, ummmm….bacon!