My mom and I recently went to NYC for a much-anticipated food and theatre trip. While I was there, I was also able to coordinate a visit with some friends from Virginia that I hadn't seen in ages.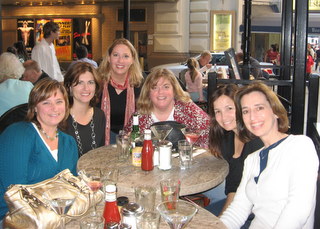 Having a cocktail with the "Shady Ladies", my buddies from Virginia, at a HUGE diner across the street from the Marriott Marquis in Times Square that I can't remember the name of. Drat.
It was a great, whirlwind trip. We covered a LOT of ground and ate some phenomenal food. I also made a quick visit to the 47th street diamond district (where the merchants are so desperate, due to the current economy, that they are practically GIVING jewelry away). I had my engagement diamond re-set into a more updated design (my old setting had broken and wasn't really reparable).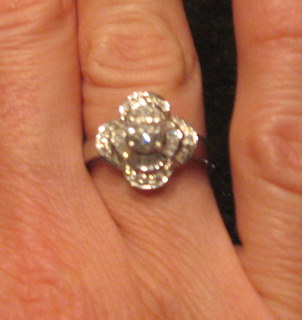 I agree with my friend, Trish, that it is VERY hard to take photos of rings.
We saw a great (if a little bit "dated") show called "Enter Laughing", with Jill Eikenberry and Michael Tucker (from L.A. Law) and were able to meet them afterwards. I have always been fans of their acting (Jill Eikenberry is also known for being in "Arthur", among other things and Michael Tucker was HILARIOUS as "Harry Rosenthal" on Tracey Ullman's show "Tracey Takes On".), but was impressed with their singing and dancing abilities, as well. Michael Tucker is quite a "foodie" and has written some great books, as well. I am reading his book "Living in a Foreign Language" right now. We saw another comedy show called "Celebrity Autobiography", where a rotating cast of actors, with various levels of celebrity themselves, read and act out scenes from real celebrity autobiographies. There was one scene that superimposed bits from the autobiographies of Eddie Fisher, Debbie Reynolds and Elizabeth Taylor, which each of them taking turns speaking. Priceless. Sherri Shepherd (from The View) was Elizabeth Taylor and she was hilarious. I'm not a huge fan of The View, but she was purringly brilliant. We also saw "Irena's Vow", which was more moving than I could possibly do justice with words. I was quite literally sobbing as the final curtain came down, and I was not the only one.
We had wonderful meals at Adour, David Burke and Donatella, Jean-Georges Vongerichten's Spice Market, Eleven Madison Park, Craft, Le Bernardin and Amarone. Some of the most inspired, refined, sumptuous and artful food that I've had in a VERY long time.
Below are some photos. I was able to snap a few at Eleven Madison Park and Adour, but the atmosphere at Le Bernardin and Craft was not conducive to doing so (although I was VERY tempted to break out the camera when I saw gorgeous Chef Eric Ripert, strolling through the dining room). Alas, we did NOT see hunky Chef Tom Colicchio at Craft. The food at Eleven Madison Park is very refined, but the atmosphere is not quite as formal (we saw folks there in jeans, although we were there for lunch, not dinner) and we were not near any other tables that might have been disturbed by my snapping. The atmosphere (and food) at Adour is VERY formal, but since there was already another table with a whiny 3 year old nearby and another table next to us with a woman chatting busily on her cellphone (and sadly ignoring both her daughter and husband AND the delicious food that was being presented to her), I figured that my sly photo-snapping might not be too obtrusive.
I have so much to say about all of the food, that I'll have to break it down into multiple posts. I'll start with one of my favorites, Eleven Madison Park:
We ordered the "Gourmand" tasting menu, with wine pairings. All of the wines were wonderful, but I can't remember the names of any of them. The service at this place was absolutely flawless.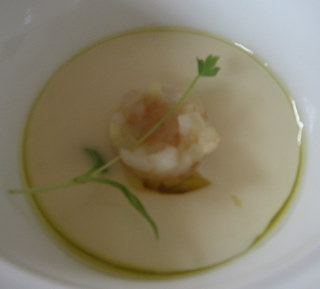 Pear-Parsnip Amuse Bouche, brought to the table in a small, lidded dish. As the waiter set the plates down before us, he whisked away the lid, allowing the wonderful aromas to envelop us. This was very warm and creamy, with just a little bit of sweetness.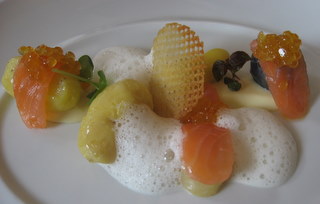 Variations on Garden Potatoes with Balik Salmon and Watercress
This was perfect. Just simple and elegant; the potatoes were cooked perfectly (fork-tender, without being mushy or mealy); the seasonings were absolutely in balance; the salmon was astoundingly fresh and the roe was briny and sweet.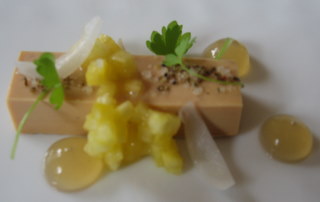 Foie Gras Terrine with Golden Pineapple, Pickled Pearl Onions and Rum-Raisin Brioche
Absolutely wonderful. Delicate, sweet and rich, with flavors that were very unexpected, but complemented each other perfectly.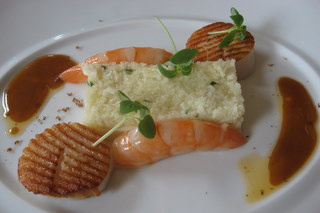 Maine Diver Scallops, Seared with Hawaiian Prawns, Cauliflower and Crustacean Jus
Very nice. The scallops were crustily seared and the cauliflower "pate" was delicious.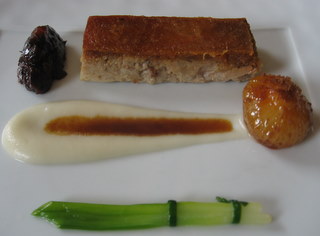 Vermont Suckling Pig Confit with Cipollini Onions, Plum Chutney and Five Spice Jus
This was SO savory and flavorful! The little "brick" of pulled pork was perfectly crisped on top (I'd LOVE to know how they did that!). The cipollini puree was onion, only distilled to its purest essence. My mouth is watering now, remembering it.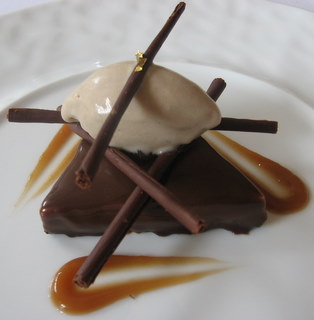 Milk Chocolate Palette with Bosc Pears and Chestnut Ice Cream
SO rich that I couldn't come close to finishing it, but wonderful anyway. The ripe pears were thinly sliced inside their chocolate shroud and resisted slightly as you cut into it.
The little chocolate shaving sticks were surprisingly crispy. The chocolate ganache was like velvet. The chestnut ice cream was sublime with a VERY strong and authentic chestnut flavor.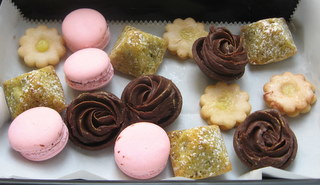 Assorted Mignardises: Raspberry Mini Macarons, Chocolate-Peanut Butter Rosettes, Lemon Cookies and Pistachios Pyramids
Although I did taste one or two of these and they were lovely, I brought the bulk of them home for the kids. Seeing the cuteness of these little mini post-dessert treats, however, has me lusting for some Flexipan molds so that I can replicate them at home to serve with coffee when we have folks over.