Boy doesn't care for tomato sauce, so when I was making stuffed shells for dinner tonight, I thought I'd try to come up with an alternate sauce for him. Hubby, Girl and I loved the tomato sauce version and Boy really loved the Parmesan-Pesto version. The two sauces might even be really good if you combined them, or baked a batch of shells that are drizzled with a little of each sauce, in the same pan.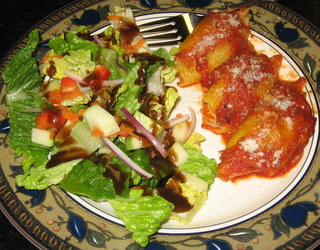 Stuffed Pasta Shells with Two Sauces
For shells:
1 12-oz package jumbo pasta shells
1 15-oz tub ricotta cheese
2 eggs, lightly beaten
1/2 cup mozzarella cheese
8 oz frozen spinach, cooked according to package directions
1/2 tsp. Baby Bam seasoning
1/2 cup freshly grated parmesan cheese, divided
1 and 1/2 cups of your favorite spaghetti sauce
Preheat oven to 350 degrees.
Cook pasta shells in salted water according to package directions. Drain and discard any broken or torn shells.
Squeeze all excess water out of the spinach and place it in a medium-sized mixing bowl. Add the Baby Bam, mozzarella, eggs, ricotta and 1/4 cup of the parmesan cheese. Stir until well combined. Stuff each of the shells with 2 – 3 Tbsp. of the ricotta mixture and place all of them, except 8, in a large baking dish. Place the remaining 8 shells in a smaller baking dish and set aside.
Top the large dish of shells with the pasta sauce and sprinkle with half of the remaining parmesan cheese. Bake for about 30 minutes or until sauce is bubbly and cheese is lightly browned. Sprinkle with remaining cheese and serve.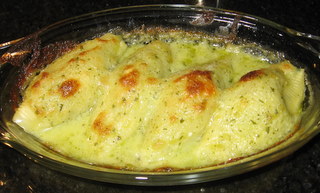 For Pesto-Parmesan Cream sauce:
4 Tbsp. butter
4 Tbsp. flour
1 and 1/2 cup liquid, either chicken stock or milk
(or a combination of both – I used 1 cup milk and 1/2 cup chicken stock)
1/4 tsp. Baby Bam seasoning
2 to 3 Tbsp. prepared pesto sauce
5 Tbsp. Parmesan cheese, divided
Melt butter in a small saucepan over medium heat. When butter is melted, whisk in the flour until well blended. Cook, whisking continuously, for 1 to 2 minutes or until very thick. Slowly pour in 1 cup of the liquid, continuously whisking, until well combined. Turn heat down to low and whisk in Baby Bam, pesto and 4 Tbsp. of the cheese. Continue to simmer until sauce reaches the desired consistency (somewhere between yogurt and melted ice cream), adding the remaining 1/2 cup liquid, if necessary. You want the sauce to be thick, but still pourable, because it will thicken a little as it bakes. Pour about 1/3 to 1/2 of the sauce over the reserved 8 stuffed shells and sprinkle with the remaining 1 Tbsp. of cheese.
Bake for 15 – 20 minutes or until sauce is bubbly and cheese is lightly browned. Reserve remaining sauce for another use (pour over cooked pasta and add some grilled chicken?).