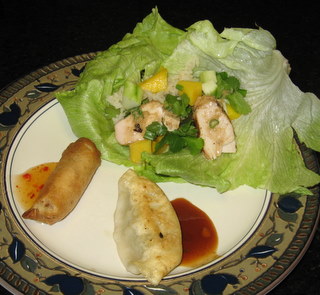 One of the women in my book club made these chicken lettuce wraps for our last meeting and they were absolutely scrumptious. One bite and I knew that I needed to make them for Hubby, Boy and Girl. They are a bit of a pain to make, for what they are. You need lots of serving dishes for this (even without the dumplings and eggrolls). You have to make 2 different from-scratch dressings. You need to use your blender, your grill and either the stove-top or a rice cooker. There's a hefty amount of chopping, including ginger, which is a headache for me. They were totally yummy, though, and I would make these again.
Modifications and simplification recommendations:
I forgot to toss the cooked chicken in the additional Lime Vinaigrette (and we didn't miss it). If you wanted to simplify the recipe, you could marinate the chicken in a bit of bottled Teriyaki sauce instead of preparing the lime vinaigrette.
I sliced the chicken, instead of shredding it. That was probably a mistake – it's probably worth the trouble to shred (or chop) it, to make the bites of meat in the wrap smaller. I also forgot to wash the rice, but I think it's worth the extra step to do that – my friend's rice was much better and less "clumpy" when she made hers.
The green onion/scallions, though they are yummy, could probably be eliminated. I love cilantro, so I would NEVER omit that. The cucumber could also go, if you're not a big fan.
The mango (I actually used 2 mangoes, instead of just 1 and we ate it ALL) is crucial – don't omit that!
The soy-ginger dressing is very good, so I think that's worth the trouble (bump the amount of sesame oil up to at least 1 tsp).
I cooked some dumplings and eggrolls (frozen) to go with these.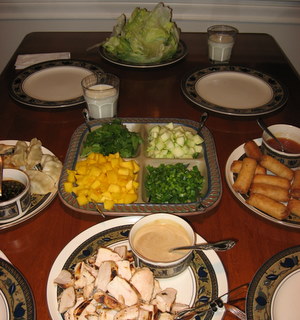 When preparing frozen dumplings, I boil them and then fry them (until they're golden on one side) in a mixture of canola and peanut oil, with just a tiny bit of toasted sesame oil added in. For eggroll/dumpling dipping sauce, use the sweet & sour sauce that comes in the package, but also use this recipe (from Cooking Light) to make a spicy-salty sauce (we like sweet & sour on eggrolls, but the soy sauce-based sauce on the dumplings
Spicy-Sweet Dipping Sauce:
1 tsp. sriracha
1 Tbsp. rice vinegar
2 Tbsp. soy sauce
2 Tbsp. duck sauce
1 Tbsp. minced green onion/scallion
Hubby LOVES this sauce and would probably eat a dead dog if it were doused in this sauce.
If I had thought of it, I would have made some edamame, too, but just didn't get around to it. I couldn't find Bibb lettuce right now, either. It really would have been better, but iceberg was OK in a pinch.
The lettuce wraps were a big hit with Hubby, Boy and Boy's friend, A (and me, too!). Girl was away at a birthday party, but will have some of the leftovers tomorrow.