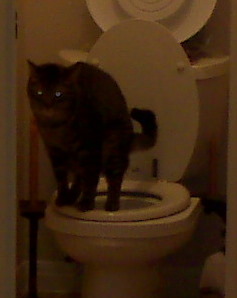 This is a HORRIBLE photo (Hubby excitedly took it with his phone this morning), but…..it is a photo of a cat, successfully and without assistance, properly using the toilet!!!
Note the correct ("All 4 feet on the seat" stance). We are now using something called "Citykitty" and it's what turned the corner for us. I will try to take some video of him later, for anyone that is interested (I'm surprised by how many of you are, actually!)
This was, of course, immediately followed with "Good boy, Jack, good potty, good kitty" and 2 Feline Greenies treats (his favorite).
Jack is, at this point, essentially trained. Ace, his brother, is following VERY closely behind in the process. The girl (Queenie), however, is still stubborn and will complain pretty vocally about having to use this piece of unfamiliar equipment for her, um, "ablutions." If we are not around, she will still pace around the bathroom, looking for somewhere, anywhere else to go and we have to keep reassuring her that, indeed, there IS no other acceptable option before she will actually consent to use the toilet. The "Citykitty" set-up, at the "almost at the end" stage where we are, still requires a small sprinkling of cat litter. When we open up the (gigantic, plastic, Costco-sized bucket) litter container, she always stands up on her hind legs, peeking in, thinking that she'd much rather go IN the litter bucket (she has actually done this before – now we have to put the bathroom trash can on TOP of the bucket to keep her out – brat.).