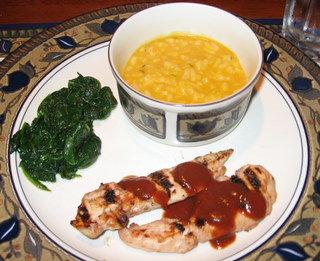 The risotto recipe is from this month's (Oct 2007) issue of Bon Appetit magazine. It was a HUGE hit with all of us, so I will definitely be doing more risottos this year, as the weather gets cooler. This recipe was really simple, too, very non-intimidating. The butternut squash were from my in-laws farm.
In the magazine, the risotto was served with crispy cornmeal-breaded shrimp, but that would NOT have gone over with Hubby or Girl. It's a shame, because it sounded really good. We're taking Boy to his favorite restaurant for his birthday on Friday, so he'll get his seafood "fix" then.
The spinach was just sauteed in a little olive oil until softened and wilted and then sprinkled with a TINY bit of Baby Bam seasoning.
The chicken tenders were marinated in a little BBQ sauce and then grilled and served with more BBQ sauce (not the same as it was marinated in!) on the side.
Actually a very easy/quick dinner – surprisingly so.