I just talked to a friend whose daughter was one of the guests at Girl's birthday party last week and she said "I think you really went over the top with that party." Guilty as charged (although, truthfully, this one of our more "low-key" parties). I LIKE "over the top" – that's where I LIVE.
For Boy's 2nd birthday, I made a donation to the volunteer fire department so that they would stop by during his "firetruck" themed party.
For Girl's 3rd birthday, we had just moved to Virginia from Texas and didn't know anyone there yet, so we went back to Texas for a visiIt and had the party with her friends (and our families) there. We no longer had a home (a.k.a. "party venue") in Texas, so we rented out the Austin Children's Museum for a couple of hours. That was a BIG hit. Girl wanted a "Lion King" themed party, but Lion King 2 had just come out. I scoured party stores all over town to find the Simba/Nala (Lion King) plates/napkins/cups/decoration and NOT the Kiala/Kovu (Lion King 2) ones.
For Girl's 8th, we had a "Nancy Drew" themed party with a custom-created "mystery/scavenger hunt" for guests to solve. I even bought a tiny little trenchcoat, fedora and magnifying glass and dressed each girl up for a souvenir photo.
Ditto for Boy's 7th: a pirate theme, with dress-up souvenir photos (complete with shoulder-riding parrot). Hubby has artistic tendencies and hand-drew a beautiful treasure map on parchment to lead the kids to the goody bags. Look at the invites in the photo below: hand-drawn treasure map invites, rolled and tied with raffia, stuffed into empty water bottles (labels removed) with a little sprinkle of sand and mini seashells, topped with a cork. The kids had to remove the maps from the bottle to be able to read the invitation (hand-delivered, of course).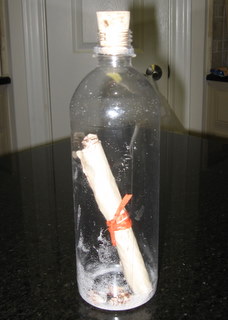 For Girl's 9th, we had an "American Girl" party with one craft from each of the 8 (at that time) American Girls, including churning butter, making thumbprint cookies, fabric dolls, and so on. There were about 20 girls, so I had an elaborate rotation schedule, with adult "helpers" at each station, to ensure that each girl got an opportunity to make each craft.
For her 6th, we had a "bug" party and released live butterflies and ladybugs (that we had been incubating at home for weeks) in the backyard.
For Boy's 8th, we had a Harry Potter party. We sorted the kids (with a Sorting Hat!) as they entered and set up a Quidditch game (hula hoops mounted on tall PVC pipes) in the backyard.
For his 7th, we had a "Ninja Turtle" party and I decorated the entire 1st floor of our house to look like a sewer and made "slime" (or is it "ooze" – I can't remember – whatever the stuff was that turned them into mutants in the first place) and let 18 boys build their own pizzas in the kitchen. I think I drank a whole bottle of wine myself after THAT party.
For his 5th (or maybe 4th?), his gift was a ride-on, multi-car train. We built the party around it, giving each kid a ticket to ride at an assigned time. There were kids assigned to be safety monitors, with orange vests. Each kid went home with a small "Thomas the Tank Engine" car, a small train whistle and a little striped conductor's cap. One dad left us a message the next morning, thanking us (sarcastically) for the train whistle and blowing it into our machine for 5 minutes, explaining that was all that he had been hearing since his son brought the whistle home.
When we left Virginia and moved back to Texas, we had an "I'm so Blue" party for Girl and her friends – get it? "I'm so Blue" that we're moving? We had blue EVERYTHING: Kool-Aid, blue-iced cupcakes, a nail-painting station with 10 different colors (all blue), blue crafts, blue decorations, blue T-shirts….the works.
Boy had a going-away swimming party at our neighborhood pool. We organized all kinds of water games, including water balloons and water musical chairs (Buy wide, shallow buckets just the right size for kids' backsides to fit in and fill them with water. Start the music. When the music stops, each kid has to "sit" in a water-filled bucket. Proceed just like musical chairs. When this party is over, you will be unable to get rid of the buckets – "We might have a pool party again someday." You won't ever have another pool party, but when you decide to re-tile your master bathroom YOURSELF, the buckets will come in very handy for mixing grout.)
We don't just do kid's parties, either. I had a Sopranos season premiere party once, too: Carmela's Baked Ziti, Janice's Biscuits Regina (sesame marzipan cookies), Arnie's Arancini rice balls, Tiramisu, Cannoli, lots of really good Barolo.
I come by all of this honestly. My parents have a joint birthday party every year for my dad and his best friend. They do all of the cooking and bartending themselves. They used to require the guests to come prepared with skits (until the guests revolted). Once they bought food-grade clay for a dinner party and baked fish in it (kinda like this). You prepare the fish with seasoning, wrap it (grape leaves? banana leaves? I can't remember) and then fold the clay around it and sculpt it into a fish shape (complete with little scale-looking indentations, eyes…the whole bag of tricks) and then you bake it. When the fish is ready, you pull the (now-baked hard) clay fish out of the oven and break it to eat your fish. So, you see, this is in my BLOOD. My nickname amongst my nearest-and-dearest girlfriends in Virginia? Shouldn't be too hard to figure out….although I've never been to prison and I don't wear shawls.
So, I hope that I've now cemented my reputation as a permanent dweller of "Over-the-Top-ville". I hope that you'll come visit me sometime. We'll have a great time…..that's an order.