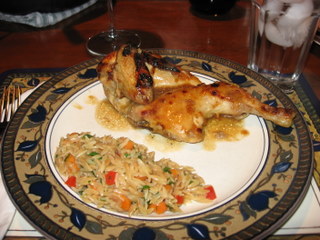 This Cornish Hen recipe from October 2002 Cooking Light magazine is a favorite. I think the glaze would be good on boneless, skinless chicken thighs or breasts, too, but I haven't tried it.
The orzo recipe comes from my best friend's hubby, who makes it regularly for their family. I added the red bell pepper, which isn't in his original recipe, mostly just because I had some on hand.
Alan's ("Eat Your Veggies") Orzo

12 ounces orzo (rice-shaped) pasta
2 Tbsp. butter
2 Tbsp. olive oil
2 garlic cloves, pressed or minced
a little minced onion
(Around 2 Tbsp. to 1/4 cup – just to your taste. I used red onion, but white would be fine, too.)
about a cup (or a little more) chopped baby carrots
one half of a red bell pepper, diced
about 3 cups chicken stock
about 2 cups fresh spinach, coarsely chopped
about 1/4 cup (or a little less) freshly grated parmesan or romano cheese
Saute the orzo in the butter and olive oil over medium-high heat, stirring and tossing constantly, until lightly golden brown and toasted.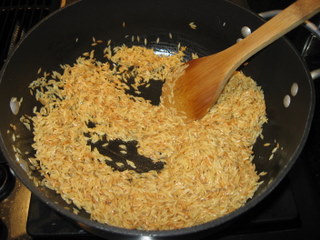 Lower heat to medium. Add garlic, onion and carrots and cook for a few minutes, stirring constantly, until onion is translucent and carrots have softened slightly. Add red bell pepper and cook for about 2 more minutes.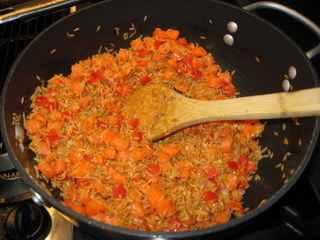 Turn heat to medium-low and gently stir in the chicken stock, about 1/4 cup at a time, until pasta is al dente. This could take 2 minutes or 10, depending upon how hot your pan is, how large your orzo is, etc, so the best way to determine if the pasta is done is to taste it (using a clean spoon each time you taste). When the pasta is getting very close to done, gently stir in the spinach and another splash of chicken stock. Finish cooking until spinach is wilted and pasta tastes right. Remove from heat and stir in the cheese.
You can add a little freshly ground pepper or a dash of your favorite all-purpose seasoning or herb, if you'd like a little more flavor. It's not absolutely necessary, but if you're feeling it needs a little more "kick", go right ahead.