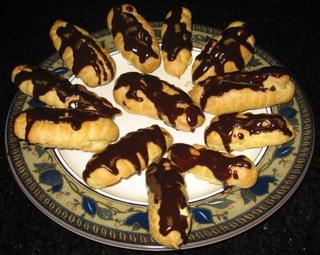 This recipe is from the special July 27, 2007 "High School Musical 2" edition of People magazine. I made them for Girl's 12th Birthday Party (in lieu of cupcakes).
Supposedly, one of the characters (Zeke) makes eclairs for another (Sharpay) in the movie, but we weren't able to spot that scene when we watched the show. If you've seen it, please clue me in. I'd hate to think that I made these things for no reason. They were yummy and relatively easy, but they're not what I would have considered "birthday fare" if it weren't for the fact that they were supposed to be in the movie. I made a double batch. The number that a batch makes depends upon how big you pipe the dough, but I found that it makes about 30.
Zeke's Eclairs
Ingredients
for puff pastries:
1 cup water
1/2 cup butter
1/4 tsp. salt
1 cup flour
4 eggs
for filling:
2 small packages instant vanilla pudding mix
3 cups cold whole milk (I used 1%)
1 cup whipping cream
1/4 cup confectioner's sugar
1 tsp. vanilla extract
for chocolate icing:
5 oz. semisweet chocolate (I used chocolate chips, because it's what I had on hand)
2 oz. butter
1/4 cup water
Make the puff pastry:
Preheat oven to 400 degrees. In a saucepan, bring water and butter to a boil, stirring constantly until butter melts. Reduce heat to low; add the flour and salt. Stir vigorously with a wooden spoon until mixture leaves sides of pan and forms a smooth ball. Remove from heat; add eggs one at a time, beating well after each addition until batter becomes smooth. Use a pastry tube with a No. 10 or larger tip to squeeze out finger-size eclairs onto baking sheet (I lined mine with parchment paper), well-spaced. (I recommend making them larger than finger-sized to make them easier to fill later – about 3-4″ long and 3/4″ wide). Bake at 400 degrees for 35-40 minutes or until VERY puffed and golden. (If they don't cook long enough to fully puff, they won't be hollow inside and won't have a good cavity for filling later – make sure they're REALLY puffed up). Cool on a wire rack.
Make the filling:
In a mixing bowl, beat pudding mix and milk. In a separate mixing bowl, whip the cream, sugar and vanilla extract until soft peaks form. Fold the whipped cream into the pudding.
Make the icing:
Melt chocolate with water in a small pot over a low flame. Once melted, add butter, whisking constantly. Remove from heat.
Put it all together:
Slice a hole in the pastry large enough to accommodate the nozzle of your pastry bag (#5 or #6 tip). Fill the bag with pudding filling and squeeze desired amount into each pastry. (I poked two small holes in each eclair: on the sides, near each end, and just piped some filling into each one – to be sure that I got full filling coverage throughout the eclair). (Serve any leftover filling as pudding later.) Spread a thin layer of chocolate icing on each eclair using a spatula (I just chose to drizzle mine). Decorate with additional icing if desired. Wait until icing hardens a bit to serve. Chill in refrigerator if desired. (I've frozen the leftover ones and will pop one into the kids' lunches occasionally as a special treat).
Here are some photos from the party: