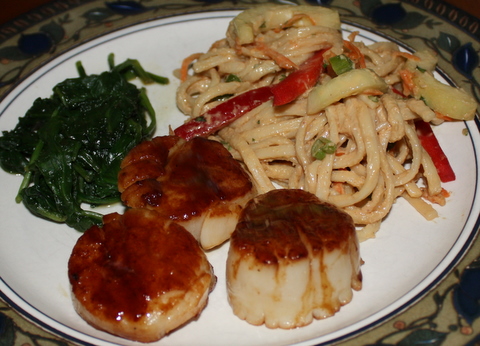 Peanut Butter Noodles recipe here.
The scallops recipe is from the subscription-only section of Fine Cooking's website, but basically, you just cook the scallops in a VERY HOT lightly oiled pan (after sprinkling them with a tiny bit of cayenne and salt) until they're browned on both sides and opaque throughout and then you lightly brush them with hoisin sauce.  Easy peasy.  The accompanying spinach recipe is slightly more difficult to sum, but I didn't use it, anyway.  I just sauteed my spinach the same old way, with a little Baby Bam.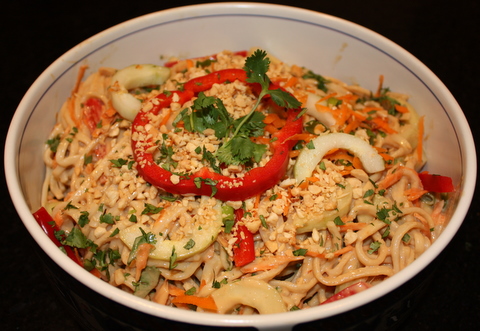 I've added the "vegetarian" tag to this post, because the peanut butter noodles would be (and were, for The Girl) an acceptable vegetarian entree, on their own.  They were delicious and were a huge hit with all four of us.  You could add any veggies that suit your taste (mushrooms, water chestnuts, baby corn, broccoli, etc.) and you could add a bit or sriracha to spice it up, if you like that sort of thing.  We added cucumber, grated carrot, red bell pepper, cilantro and finely chopped peanuts.