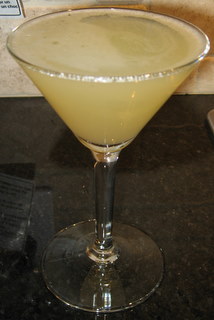 This was DELICIOUS.
First, I made a ginger simple syrup:
Take equal parts water and sugar, add some peeled, coarsely chopped fresh ginger and boil them together until slightly thickened and syrupy. Let cool to room temperature and then pour into a container and refrigerate overnight. The next day, strain out the ginger. This will keep in the refrigerate for about a week, or maybe 10 days, but if you keep it in a plastic squeeze bottle in the freezer, as I do, you can pull it out when you need it and it will keep indefinitely. It won't totally freeze (because of the high sugar content), so it can be used almost directly out of the freezer (let is warm up for just a minute or two.)
Second, I put 2 ounces of vodka into a small cocktail shaker.
Third, I just happened to have a pitcher of Welch's frozen concentrated passion fruit juice mixed up in the fridge (leftover from making this salad dressing), so I added about an ounce of it to the shaker.
Fourth, I added a little squeeze of fresh lime juice (about half a lime's worth.)
Fifth, I added a little squirt (about a tablespoon?) of the ginger simple syrup.
Add ice. Shake vigorously and strain into a chilled cocktail glass. Mmmm…tropical and refreshing. Yummy.