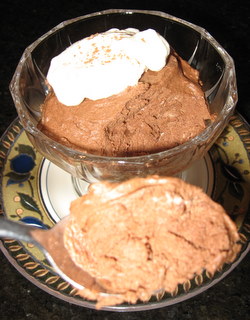 Fine Cooking's Real Chocolate Mousse (click for recipe)
This recipe was really easy, but the final result was just a little…I don't know…meh. The flavor was good and very rich, but the texture (as is mentioned in some of the reviews) was a little grainy. I may not have melted the chocolate thoroughly enough. None of us were able to finish this, mostly because it was so rich (the portions should be smaller), but also because it just wasn't perfect. Not awful, but could definitely be better. Will be trying another recipe soon. Maybe this one.
I know that my friend Trish has posted a chocolate mousse recipe on her blog, but her blog doesn't have a search field, so I can't find it! Trish, if you're reading this (when you return from Thailand – color me envious!), send me your recipe!!!