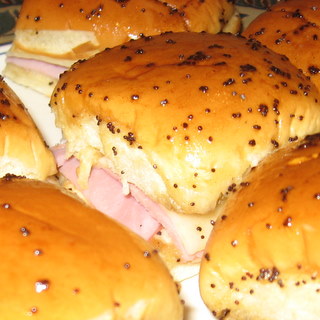 These rolls are SO delicious. They are great for a party and people will ask for the recipe EVERY time. These come from my BFF, Eileen. I have no idea where she got the recipe, and she's been making them so long, she probably doesn't remember, either. They are sweet, tangy, rich and buttery, chewy and warm. My mouth is watering, just thinking about them. They can be tightly wrapped in foil and plastic wrap and frozen until you need them for a special occasion. I decided to make them this week because I had a lot of slider hamburger buns dinner rolls left over from my brother and sis-in-law's baby shower and we hadn't made these rolls in a long time.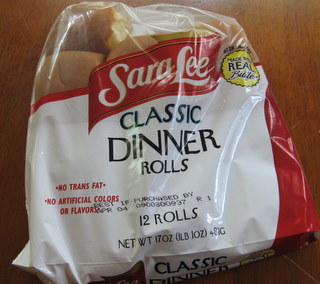 I was going to freeze all six packages (I made a double batch), but Hubby looked so pitifully sad and asked "couldn't we just bake one package, for lunch?," that I, of course, had to do that. He LOVES these things. Be sure to have lots of napkins on hand when you eat them!
Eileen's Ham & Swiss Rolls
3 packages dinner rolls or sweet Hawaiian rolls
3/4 lb. sliced swiss cheese
1 lb. sliced good-quality smoked ham
1 cup butter (2 sticks)
2 Tbsp Worcestershire sauce
2 Tbsp Dijon mustard
1/4 cup brown sugar
2 Tbsp poppy seeds
Preheat oven to 350 degrees.
Slice the rolls (keeping them intact/attached to each other, if possible) horizontally. Place the bottom half of rolls on a large sheet of aluminum foil. Set the tops of the rolls (cut side up) next to the bottoms.
Heat butter, Worcestershire, mustard, brown sugar and poppy seeds in small saucepan over medium heat until butter is melted. Continue cooking, stirring occasionally, until sauce reaches a gentle boil. Boil, stirring, for a few more moments until sauce has slightly thickened. Remove the pan from heat and set aside to cool for a few moments.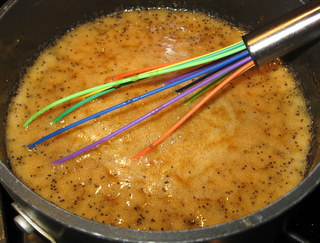 Using a pastry or basting brush, brush a light coating of the sauce onto both the tops and bottoms of rolls (brush the cut sides.). You should only use about 1/2 of the sauce (I forgot to brush the tops when I made mine, but that's OK.)
Lay the sliced ham evenly over all of the roll bottoms and then top with the sliced cheese, then place the rolls tops back on.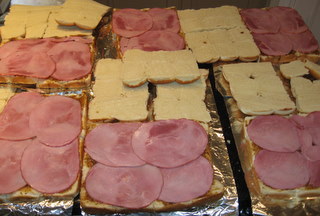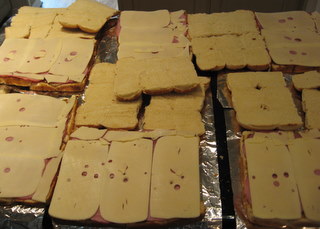 Brush the remaining sauce over the top and sides of all of the rolls.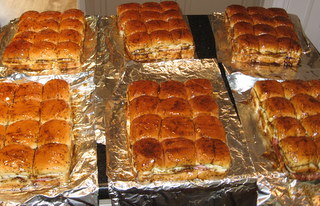 Wrap the aluminum foil snugly around the rolls to seal. Bake, wrapped in the foil, at 350 degrees until the rolls are warmed through and the cheese has melted (about 20 minutes) or you may wrap in an additional layer of plastic wrap and refrigerate (for up to 2 days) or freeze (for up to 2 months) until you're ready to bake them. Be sure to remove the plastic wrap before baking.
After baking, unwrap the rolls and use a long, serrated bread-type knife to cut the rolls apart (use the line between rolls as a guide to slice through the ham.)