This is the recipe that we learned at the family cooking night at Whole Foods, but I've adapted the recipe a tiny bit to suit our tastes. These are REALLY good. The kids even like them, although they drink a lot of water with them!
We went to another cooking class at Whole Foods last night and my parents watched Girl (Boy was at a sleepover) for us (it was an adults-only class: Duck Breast Fillet, Spaghetti Squash, Salad with Radicchio, Pear and Honey-Pancetta Vinaigrette, Blood Orange Flan). We took them a pan of these enchiladas as a thank you.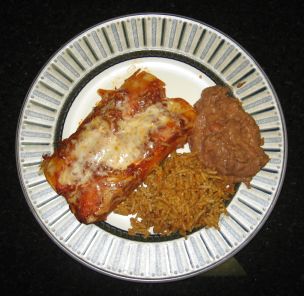 For chile sauce:
4 cloves garlic
1/2 cup chopped white onion
1 Tbsp. oil (canola or olive)
4 dried guajillo chiles, stems and seeds removed
4 dried ancho chiles, stems and seeds removed
1 tsp. ground cumin
2 cups chicken stock
salt, pepper and sugar to taste
Saute onion and garlic over medium-high heat in a small pan until softened and translucent. Set aside. Heat a large pan or griddle over medium heat. Tear the chiles into flat pieces and place into the pan. The chiles will slightly blister and change color. Remove chiles and place in a bowl. Cover with water and weigh down so chiles remain submerged for at least 1 hour. Drain chiles (reserve liquid for another use, if desired – see chili recipe). Squeeze lightly and place, with remaining ingredients (including onions and garlic), in a blender. Blend until smooth. Season with salt, pepper and sugar to taste. Place the sauce in a wide, shallow bowl and set aside.
For filling:
3 to 4 cups chicken stock
1 and 1/2 pounds peeled and diced potatoes and carrots (about 3/4 pound of each)
1/2 cup chopped white onion
1 Tbsp oil
1 rotisserie chicken
(The store was out of plain chickens, so we used one that was seasoned with honey and jalapeno and it was really good.)
Simmer potatoes and carrots, covered, in a medium saucepan until fork-tender. Drain vegetables, then set aside in a medium to large-sized mixing bowl. Saute onions in the oil until softened and translucent. Pour onions into mixing bowl with carrots and potatoes. Tear chicken meat off bones and shred into small pieces. Add chicken to other ingredients in the bowl. Add a few tablespoons of the chile sauce to the filling ingredients and stir well to evenly mix and combine.
To prepare enchiladas:
about 8 Tbsp. canola oil
16 corn tortillas
about 1 cup grated cheese (cheddar, monterrey jack or queso freso – your choice)
Preheat oven to 350 degrees. Heat about 1 Tbsp oil in a small skillet. Add one tortilla to the skillet and cook in the oil until softened – being careful not to cook to long or the tortilla will "crisp" up into a tostada. When the tortilla is softened, remove from the skillet with tongs (careful – it will be hot) and dip it into the chile sauce. Place 1/4 cup or less of the filling into the tortilla and roll up, gently but tightly. Place seam-side down in a lightly greased (we use Pam) baking dish. Repeat with remaining tortillas. We use two 13-by-9 inch pans and can make about 16 enchiladas, but it will depend upon how much filling you use in each enchilada. Spoon leftover sauce over enchiladas in pan and top with grated cheese. Bake until enchiladas are warmed through and cheese is thoroughly melted – about 10 minutes.