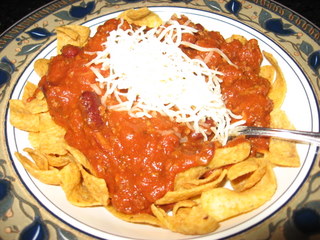 2 pounds ground beef
1/2 cup finely chopped white onion
2 or 3 cloves minced garlic
1 15-ounce can tomato sauce
1 15-ounce can diced tomatoes
1 6-ounce can tomato paste
1/2 cup chili powder
1 1/2 tsp. ground cumin
2 tsp. dried oregano
2 tsp. paprika
1 tsp. salt
1/2 tsp. cayenne pepper
15 ounces water, or liquid from soaking dried chiles
(use one of your large, empty tomato cans to measure)
2 Tbsp. masa harina
(This is a flour for making tortillas – check in the "Hispanic foods" aisle at your supermarket)
Optional:1 15-ounce can pinto or kidney beans, if you must, but beans are anathema to truly authentic "Texas" chili. Even so, I occasionally add them, anyway – you have to get SOME kind of veggie into the kids, after all.
Place the onions, garlic and beef in a large, heavy stockpot or Dutch oven-type pan. Over medium-high heat, brown the meat (with the alliums), stirring to break up large chunks, until all traces of pink/red are gone. Drain fat off.
Lower heat. Add remaining ingredients except water and masa to pan. Stir well to blend. Simmer, uncovered, about 45 minutes, stirring occasionally so that bottom doesn't scorch. Adjust seasonings to your taste: you can add a little Tabasco or more cayenne if you REALLY want to spice it up. This is a pretty basic, mild recipe to start with – appropriate for grandmas and toddlers in Texas. Of course, I did make a batch for a chili cook-off in Virginia once and it won first place in the "Burn Your Tongue Off" category. Wimps.
In a small bowl (or tomato can), blend together the water and masa. Add to chili and stir well. Add beans, if you choose. Stir well. Simmer another 20 – 30 minutes, stirring occasionally.
For a gourmet presentation, top with a dollop of sour cream and a sprig of cilantro.
To make a decidedly non-gourmet Texas-style "Frito Pie":
Place a handful of Frito chips in the bottom of a small bowl. Cover with hot chili. Top with finely chopped white onion and grated cheddar. Dig in.