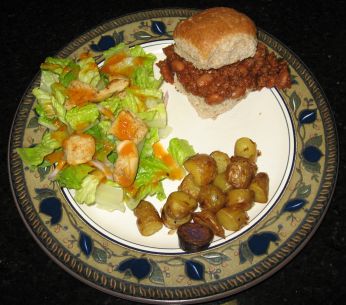 OK, so I used Manwich canned sauce (tons of sodium and high fructose corn syrup) to make these, but Boy and Girl LOVE these. To make them a bit healthier, I used bison (VERY low fat) meat from my in-laws' farm (my in-laws don't raise them, but have an arrangement with the producer to re-sell it), added a can of organic pinto beans (drained and rinsed to get rid of the excess salt) and served them on mini whole wheat dinner rolls, to cut the portion size. Add a salad and it turns into something pretty healthy. Bison meat (same as buffalo, I think?) is really healthy, but we do find it to be a tad "gamey" to eat on it's own. It's OK, though, if it's going in a tomato sauce or will be pretty heavily seasoned. Hubby made some great ravioli with it for Christmas Eve dinner, but I forgot to take a photo – DRAT!
The potatoes were some of the leftover boiled fingerlings from Christmas dinner (before they got smashed, buttered, parsleyed and horseradish creme fraiched). I cut them into chunks, heated some olive oil in a pan over high heat, added the potatoes and cooked them on high, tossing/turning every few minutes, until they were crusty and browned all over. Then, I set the potatoes aside in the serving dish, added a tiny bit more oil to the pan and added 2 minced garlic cloves and about 1/4 cup finely chopped onion and sauteed those until soft, then added the potatoes back in (I was afraid that if I sauteed the onion and garlic with the potatoes, that they would get too brown and bitter before the potatoes were done).
This dinner was a big hit with Boy and Girl!