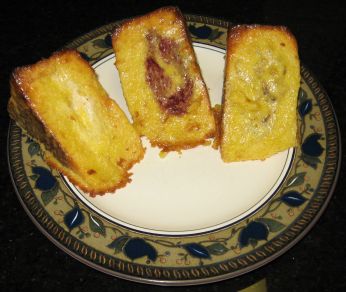 From left to right:
Cream Cheese-filled, Strawberry-filled, Original banana-filled.
This French Toast was yummy, crusty, rich, sweet and flavorful. I tried two other fillings, in addition to the original banana, which is very good. Girl doesn't care for bananas, so I made a strawberry paste by simmering and mashing some frozen strawberries with a little water until it was thick and pasty and used that to stuff the toast instead of the banana. That was very yummy. The other version was with sweetened cream cheese; I added a sprinkle or two of cinnamon and about 1 Tbsp of sugar to half a brick of lowfat cream cheese and used that in place of the banana. That one is my favorite.
The great thing about this recipe is that a lot of it can be done in advance (making the creme anglaise) and that it bakes, so you don't have to babysit and turn the French toast on a griddle while it's cooking.
A Pullman pan is the culinary term for the long, rectangular (square when viewed from the "end") loaf pans that bakeries use to make sandwich loaves in. Some Pullman pans have lids that slide over the top to keep the bread from rising so much, so that the baked bread will have a dense "crumb". I did have to special-order the Pullman-pan brioche from my local grocery store, since they normally only make brioche rolls, and not loaves. If I looked around, I could probably find a store that makes it regularly, but, I just ordered it then cut the crusts off and cut it into 3-inch thick slices and froze it until I was ready to use it this morning and that worked fine. I do think that using brioche is worth it – it made it really light and flavorful.
I cooked the creme anglaise a little too long, so it was really thick. I actually made a half-batch of the toast this morning, but made a full batch of the creme anglaise, thinking that I would put the leftover creme in the fridge to make it again another day soon, but because my creme turned out so thick, I actually used the whole batch of creme for a half-batch of bread.
I found that it took longer than 12 minutes to bake, but that may have been because I over-soaked my toast in the double batch of thickened creme.
This recipe was adapted from Brunch by Marc Meyer and Peter Meehan, but I saw it when it was published in the February 2006 issue of House Beautiful. I've looked for the recipe online, so that I could link it for you, but haven't been able to find it. I don't own the cookbook, but it looks like a really good one. The authors are the owners of the Five Points Restaurant in New York. Boy and Girl really loved this, as did Hubby.
Baked Banana French Toast
For creme anglaise:
4 egg yolks
1/4 cup sugar
pinch of salt
2 tsp. vanilla extract
1 cup warm heavy cream
For the French toast:
1 Tbsp. unsalted butter
1 loaf Pullman brioche or similar bread, crust removed
about 4 very ripe bananas, mashed
warmed maple syrup
Prepare creme anglaise: Whisk together egg yolks, sugar, salt and vanilla in a pan. Whisk in 2 Tablespoons cream. Add remaining cream, whisking constantly. Cook, over medium low heat, stirring constantly, until sauce barely coats the back of a wooden spoon. Pour sauce into a shallow bowl and let cool.
Prepare French toast: Preheat oven to 375 degrees. Lightly butter a sheet pan and place in oven.
Cut bread into 8 3-inch-thick slices. Cut each slice diagonally into 2 triangles. Cut a slit into the wide side of the wedge, creating a pocket. Fill pockets with mashed banana.
Dip stuffed bread slices into sauce, lightly coating each side. Place slices on preheated pan and bake until golden brown, about 12 minutes. Serve with maple syrup. Serves 8.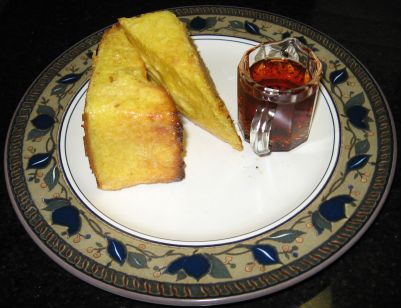 The photo that was in the article with the original recipe had the toast pictured like this, with 2 slices together, filling sides together, but I served them differently. I think that they must have baked the slices together that way, since their slices fit together that way better than mine, but I placed my slices on the baking sheet with the filling side up, so that side would toast and the filling wouldn't be soggy. I also didn't make any effort to "pair up" the bread slices that had originally been together before the bread was diagonally sliced.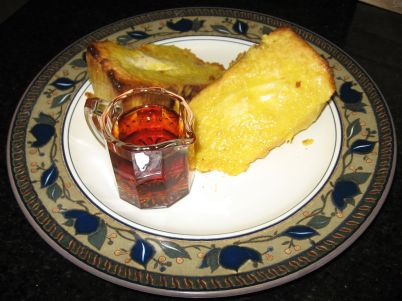 I think that the toast looks better served like this, with the slices angled up off the plate, filling sides up.