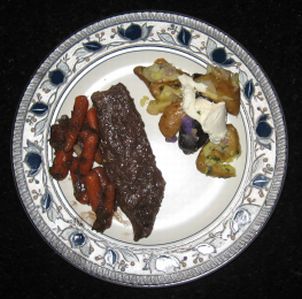 I apologize for this horrible photo – guess my camera skills were off tonight!
We had my little brother and his wife over for dinner tonight and made this short rib recipe from Epicurious. These were SO delicious and flavorful and really not too much trouble to make. There's a little chopping and a little time browning the ribs then sauteing and simmering the sauce ingredients on the stove, but then the ribs cook for 2 and 1/2 hours, so you're free to fiddle around with the rest of your side dishes. We made Smashed Fingerling Potatoes with Horseradish Creme Fraiche to go with them – a recipe from the December 2006 issue of Fine Cooking. I love that magazine and that particular issue is a really great one. I'm going to make a Slow-Roasted Prime Rib recipe from the same issue for our Christmas Day lunch and the potatoes were so good, I'm going to make them again for Christmas. Here's an excerpt from the article. I don't want to risk any copyright issues, but I'll tell you the basic instructions for the potatoes, without giving away any "secrets":
Boil fingerling potatoes (the ones that I found were a mix of different potatoes, like Red Bliss and Blue and Baby Yukon Golds) until tender when poked with a fork (the recipe says use water, but I used chicken stock). Drain the liquid off – reserving a little bit of it. Smash each potato, individually, with a spatula or wooden spoon, just to smush it a little and break the skin. Put a little butter and chopped parsley on the potatoes after they're smashed, using a little of the cooking liquid, if necessary. For the horseradish cream, blend 1 Tbsp. of prepared horseradish sauce with each 1/4 cup of creme fraiche that you would like to use. Top each serving of potatoes with a dollop of the creme fraiche.
Little Brother made a WONDERFUL, rich, gooey Chocolate Bourbon Pecan Pie for dessert – I'll have to get his recipe!