This idea originally came from a community service project that Girl's Girl Scout troop did a couple of years ago. I like this idea, because while we want to help those in need, it would be naive to ignore the fact that a lot of these people in need have substance abuse problems that giving them cash would enable them to pursue. This project, I believe, is a more suitable way to help. I am nervous about giving someone cash that they may use on booze or drugs, but I would never begrudge anyone food. This project was such a hit that we've adopted it and done it several times, as a family. I was worried, at first, that the intended recipients of these bags might be rude: "What do I want with this, Lady? Just give me money!", but that was not the case at all. Every single person that we have given one of these to has responded graciously and gratefully.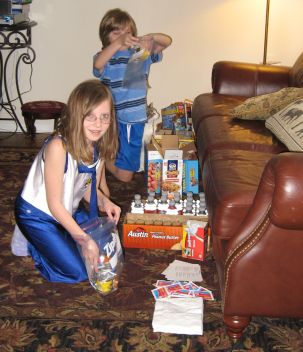 The kids bundled up 29 of these bags this morning. We are going to give some to our family and friends this holiday season, in the hopes that they will keep a couple in their car, to hand to someone in need of assistance. If you are interested in trying this yourself, this is what we packaged in the bags (this is "survival" food and needs to be non-perishable, so I know that it's not the most healthy, but it's necessary) :
one individual pop-top can of fruit
one pop-top can of Vienna sausages
one granola bar
one plastic spoon
one paper napkin
one sanitary hand wipe
one small water bottle
one individual package peanut butter crackers
a printed card with information on places to go for help
(If you are in the Austin area and would like to use our list of Austin-area resources, you may download it here.)
All of these items were packaged in a gallon-sized Ziploc bag.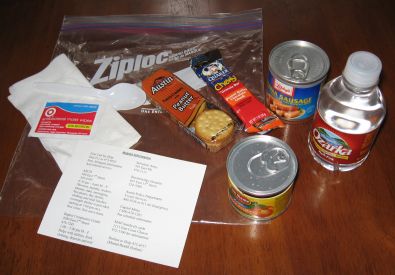 Happy Holidays, everyone!