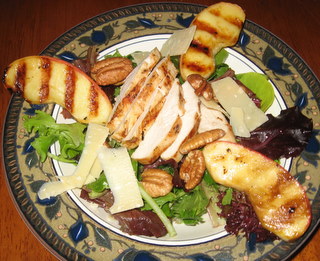 this salad on Serious Eats, it looked like something that everyone in my family would eat, with a few minor adaptations.
First off, Vegetarian Girl left the chicken off her salad, of course, but I figured that with the cheese and the nuts, she would still be getting plenty of protein.
Secondly, I used toasted pecans instead of the almonds, because we like them better and it's what I had in the house.
Thirdly, I omitted the raisins, because most of my family believes, like Lilly, that raisins taste like dirt.
This salad was QUITE yummy. It never would have occurred to me to grill apples, but they were tasty and we all liked them. I know that safflower oil might be difficult for some people to find, but it's worth the effort, because it is MUCH lighter than other oils and keeps the dressing from being too greasy on the delicate ingredients.