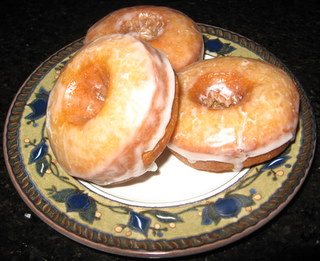 It seems like doughnuts are everywhere lately, maybe because lots of the food blogosphere is involved in testing recipes for Lara Ferroni's new doughnut book (coming next Fall.) It seems like every food blog that I read is talking about doughnuts, posting recipes for doughnuts, etc So, I've had them on the brain lately, as well. It was kismet when I saw
this recipe on Serious Eats and just happened to have a bit of leftover buttermilk in the fridge. These require quite a bit of advance prep (the dough must be made, then chilled, then cut out, then chilled again, then brought to room temperature and then fried), but they were quite yummy and not overpoweringly sweet. The only criticism that I have was that the glaze was a little…meh. Just nothing special about it, just sweet. Next time I might use buttermilk to make the glaze instead of water (or maybe just regular milk or cream) and would add a pinch of cinnamon and maybe a drop or two of vanilla, just to give the glaze some character of its own.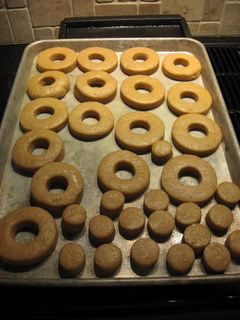 Cut out dough, waiting to be fried.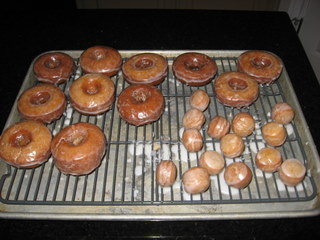 Completed doughnuts (well, there might be just one or two missing…)