This is a recipe that I came up with when I had some leftover French bread on hand and wanted to use it up. It turned out pretty well as it was, but I will probably adapt it the next time that I make it to make it a little more flavorful. I also wasn't super crazy about the texture, so I will probably lightly toast the bread cubes before mixing them with the custard next time. All in all, though, a pretty good recipe and definitely something that I will try again.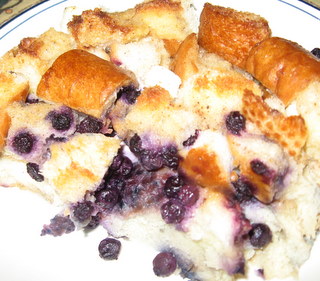 Baked Blueberry French Toast
1/2 pound French bread, cut into into bite-sized cubes
(I buy the "French Sticks" from HEB frequently and each "stick" is about 1/2 pound)
4 oz cream cheese (half of a "brick"), cut into small dice (about 20 pieces)
1 cup blueberries (fresh or frozen)
4 eggs
1 cup milk
1 cup half and half (or an additional 1/2 cup milk and 1/2 cup heavy cream)
1/4 tsp Cinnamon Spice Blend
1 tsp vanilla
2 Tbsp sugar
Cinnamon Sugar (Cinnamon Spice Blend mixed with sugar)
Preheat oven to 350 degrees. Spray a medium-sized (7″ by 11″ inches?) baking pan with cooking spray. Layer half of the bread cubes into the pan, then sprinkle with half of the cream cheese and half of the blueberries. Repeat layers: bread, cream cheese, blueberries. Whisk together the remaining ingredients (except the cinnamon sugar) and pour over the bread, cheese and fruit. Sprinkle the top generously with the cinnamon sugar. Bake until a knife inserted into the casserole comes out clean (eggs are cooked through) and the top is lightly golden browned (start with 20 minutes and then just watch it; I don't remember exactly how long it took to cook). If the top starts to burn, cover it lightly with foil.