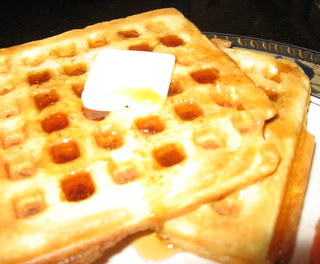 Click here for recipe.
When I saw this recipe billed on Serious Eats as the "Greatest Waffle Recipe Ever," I knew that I had to give it a try. There are quite a few steps to preparing the batter, and I wasn't crazy about having to dirty three mixing bowls to make it (one for the wet ingredients, one for the dry and one for the egg whites,) but you really can't argue with results; they were delicious. They were rich, but light, crisp and tasty, the perfect foil for your choice of syrup and/or topping (powdered sugar for Girl, birch syrup for Boy, boysenberry syrup for me and maple syrup for Hubby.)
I added a bit (1/4 to 1/2 tsp?) of McCormick's Vanilla, Butter & Nut extract and a shake or two of Cinnamon Spice Blend to the batter, just to punch up the flavor a little. If that's not your style, then a tiny bit of plain vanilla would still be nice, I think. The batter is VERY thick and must be evenly spooned onto the waffle iron; it will NOT pour. At all. In fact, you almost have to spread it a little to get it on over the whole thing. Worth the effort, though.